Review: The Acer Iconia A500 Tab. How Far From Becoming Iconic Is This Tablet?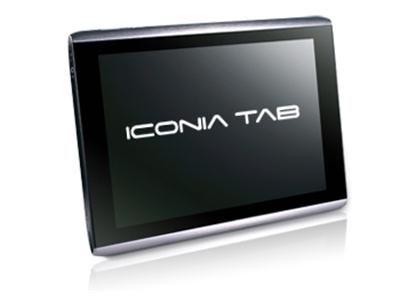 I will start by saying that my previous experience with Acer extends as far as my brother having once owned an Acer Laptop and I occasionally used it. Basically, the point I'm making is that I had no preconceptions when I picked up this tablet for the first time.
Acer currently has two lines of tablets available, the Iconia W series, which is a little bit pricier, and the Iconia A series. You'll also be glad to hear that I can offer a little bit more information, the W stands for Windows 7 and the A stands for Android, makes sense when you think about it really.
So, what we have here is an Acer, Android 3.0, 10″ Tablet but I'm sure you would like to know more.
Looks
I'll just jump straight in and throw some numbers at you, the A500 weighs 765g, respectable, and measures 260 x 177 x 13.3 mm. All in all, this tablet isn't the slimmest or the lightest around but it's certainly not going to cause you any problems if you want to put it in your bag and carry it around all day.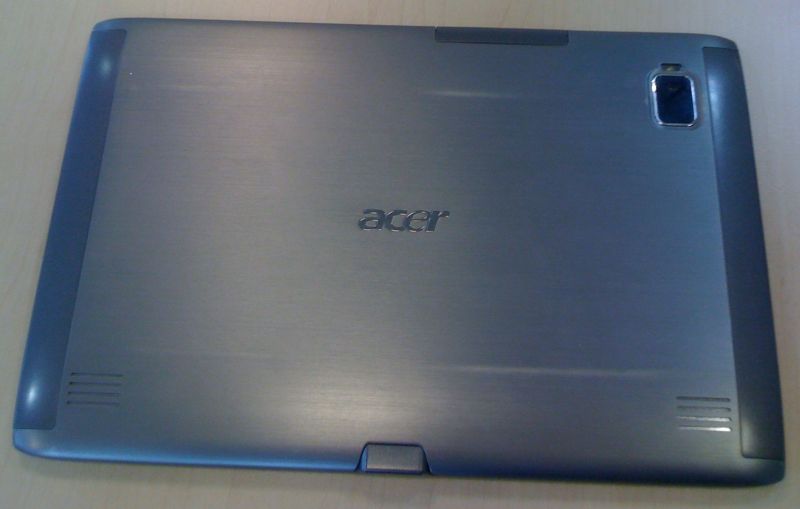 It wouldn't be out of the question to hear that Acer may have some sort of reflection fetish going on after you've looked at this tablet. The brushed metal rear, darker plastic inserts and screen can almost leave you dazed if the light catches it in a certain way. As a matter of fact, the screen, even when turned on, makes as good a mirror as it does a tablet display.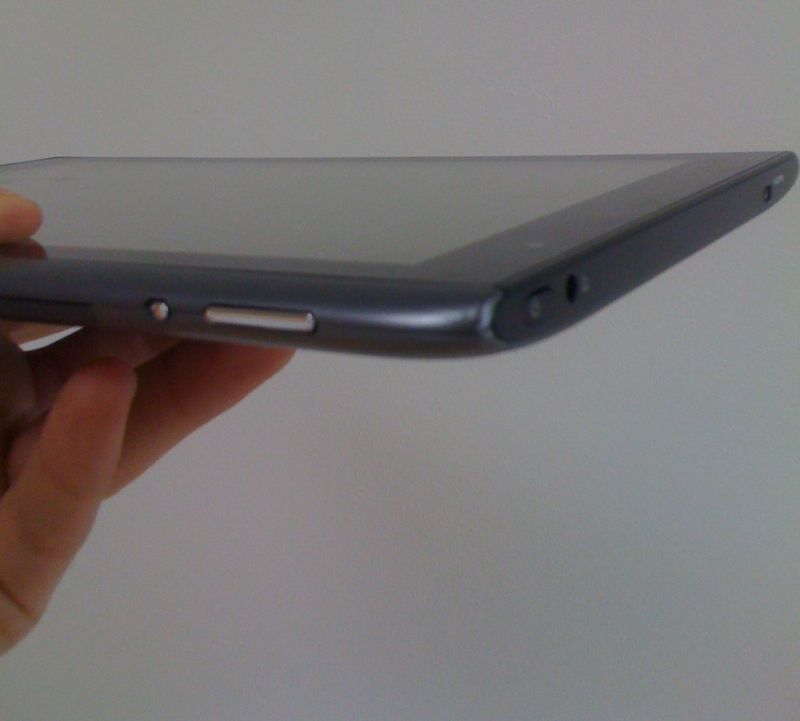 Along the top of the Iconia you'll find the volume rocker and a rotation lock switch. However, these are made from the cheapest looking silver plastic imaginable, and although they're only small, it still detracts from the overall look. There is also a compartment covered by a sliding insert which, by the way, is far easier to slide off than it is to put back, and this is where sim cards and micro SD cards are inserted. Along the bottom of the A500 there sits a solitary docking connector.
The right side features the charging jack and two USB ports, one of which is a Micro USB port. A mini-HDMI port and earphone jack, along with the weirdly fascinating translucent on/off button are all found on the left side.
Unlike so many other Android tablets the home, back and menu buttons aren't found in the bezel around the screen, they are actually part of the screen. The bezel does, however, have the front facing camera embedded within it. There is also a rear facing camera, with flash, on the back, accompanied by two mesh covered speakers, more on both of those later.
Everything on the Iconia looks neat, precise and orderly, from the front it looks excellent, yet it could have been put together a bit better. By that I mean that the seams of inserts on the rear along with the actual seam of the tablet on either side should have been made less obvious. The devil is in the details.
Screen
The Acer offers up a 800 x 1280 pixel, 10.1 (the .1 makes a difference, trust me) inch TFT LCD screen, capable of displaying up to 256K colours. If you compare that to the HTC Flyers 16M colours, it comes out looking a tad bland but, by tablet standards, it isn't too shabby.
Its clarity and crispness is only slightly dampened by the amount of glare that the screen picks up, as well as its tendency to attract fingerprint grease, though a very effective cleaning cloth is also supplied.
Despite boasting about wide viewing angles on the box the glare again restricts how much of the screen you can see and at what angle.

The capacitive touch screen on the A500 is amongst the most responsive I have ever tested, as is the accelerometer, which I put through its paces with a few levels of Need for Speed.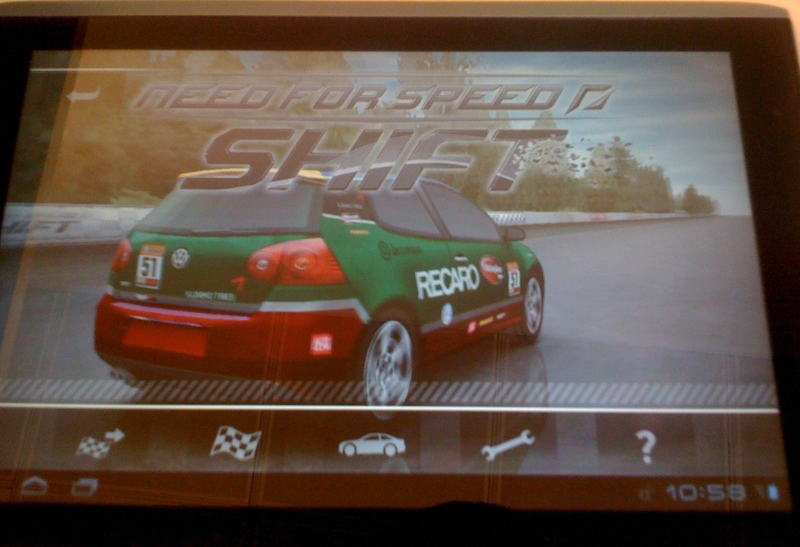 Camera
As I mentioned previously, the Iconia comes with a front and rear facing camera. The latter is a 5MP effort with an LED flash, whereas the front facing snapper is only 2MP. I say only 2MP, it's better than the usual VGA numbers that many other tablets are fitted with.
With good light, the rear camera is a little over acceptable for taking still, close up shots, but start playing with the focus and zoom then images just become come a hazy mess of colour.
Here are a couple of sample shots, the portrait shot was taken using the zoom: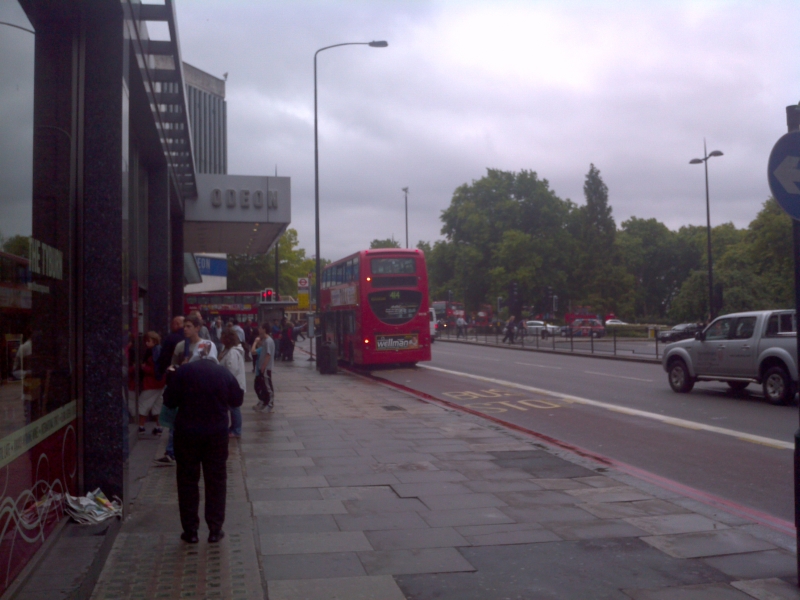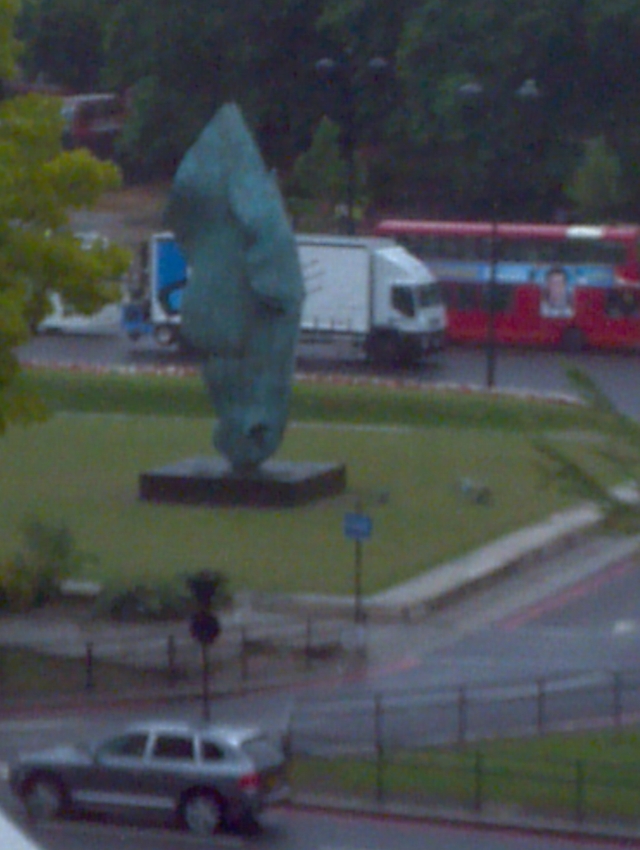 You won't be suprised to find out that the he video recording capabilities aren't really any better. The tablet is supposedly capable of 720p recording but, much like the HTC Flyer, it falls far short of that. To be fair, I can't see many people buying the Acer just to walk around holding it up to record video anyway. It's most likely there on the off-chance you bump into Bobby Davro and want video proof to show your friends.
Here is a sample:
Features
Again, I'll get straight into it with more numbers and spec. The A500 comes with either, 16GB or 32GB storage and 1GB of RAM. It gets better, it is also packed with a Tegra 2 T20 chipset, a dual-core 1GHz ARM Cortex-A9 processor and GeForce graphics processing unit.
A couple more little bonuses are flash 10.1 and Bluetooth 2.1 support.
Media
The rear grille covered speakers I mentioned earlier, with the help of Dolby Mobile 2, actually sound pretty darn good, well in tablet terms at least.
Don't go expecting ground shaking bass or pure musical clarity because that's not what I'm saying, but they perform admirably during gameplay and, at a stretch, it is probably strong enough to share a movie with three people sat in the back of a car.
One seriously annoying thing I encountered was that before you can begin taking media from and putting it onto the tablet, you must first go to Acer's website and download a 82Mb driver. I've never had to do this with any other Android tablet I've used, they've all been plug and play.
Android
Android 3.0 is one of the main selling points of this Acer Tab and, aesthetically at least, it doesn't disappoint. Everything is laid out nicely, flows with no lagging and does everything you'd expect it to do.
Acer have, of course, included some of their own apps and regular readers will know that duplicate apps grind my gears.
Well, whilst u sing the Acer, even the duplicate apps didn't bother me, it brought with it a sense of serenity. Possibly because the apps that were duplicates had subtle differences.
For example, clear.fi multimedia browser basically does the same thing as Android's Gallery and Music apps, but clear.fi looks as if it has had much more time spent on it and the level of functionality is greatly increased.
The drag and pull lock screen, which is becoming increasingly common, is another nice touch, however, my favourite bit, by far is the web browsing widget. It sits in the top right corner of the home screen and can contain up to 14 bookmarked pages, all of which scroll smoothly down as you run your finger over it.
Battery life
Despite the extra 4.5mm thickness that the A500 has over the iPad 2, it only comes with a Li-polymer 3260 mAh battery and that that doesn't come close to the longevity that the Apple device can offer.
You can see the Iconia's battery life slowly creep down with moderate usage and if I owned one I'm sure that one day, inevitably, when I'd need it most I'd have forgotten to charge it and end up running out of power.
Conclusion
The Acer Iconia A500, available at around £369 for the 32GB model, or £349 for 16GB, is a solid Android tablet. It comes close to being labelled average but the power of the Tegra dual-core processor is its saving grace. That, and the fact that the RAM means apps and Honeycomb can run without the slightest snag.
The screen, camera and build quality could be improved upon but it's a constant balancing act between performance and cost. In this case Acer have been sensible, it could have become iconic if they'd taken more risks to differentiate themselves.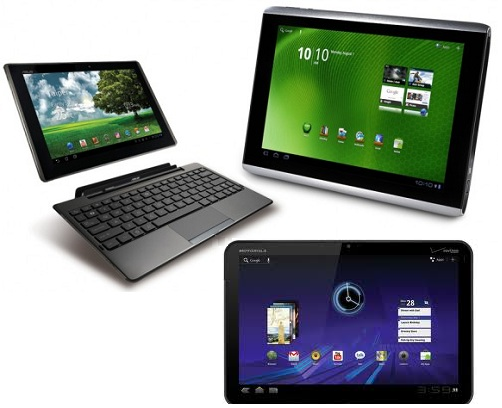 The Asus Eepad Transformer, around £419, and Motorola Xoom, £399, are the alternatives and they come with very similar specs but better screens. The only other major difference is the additional skin that the manufacturers put on top of Android.
Price and personal preference are the deciders here, 3.0 hasn't yet reached it's full potential and whilst the spec of these tablets are almost identical the performance and strong points of each device varies.