Review: Samsung Galaxy Tab. Countdown To The 10.1
With the Samsung Galaxy Tab 10.1 set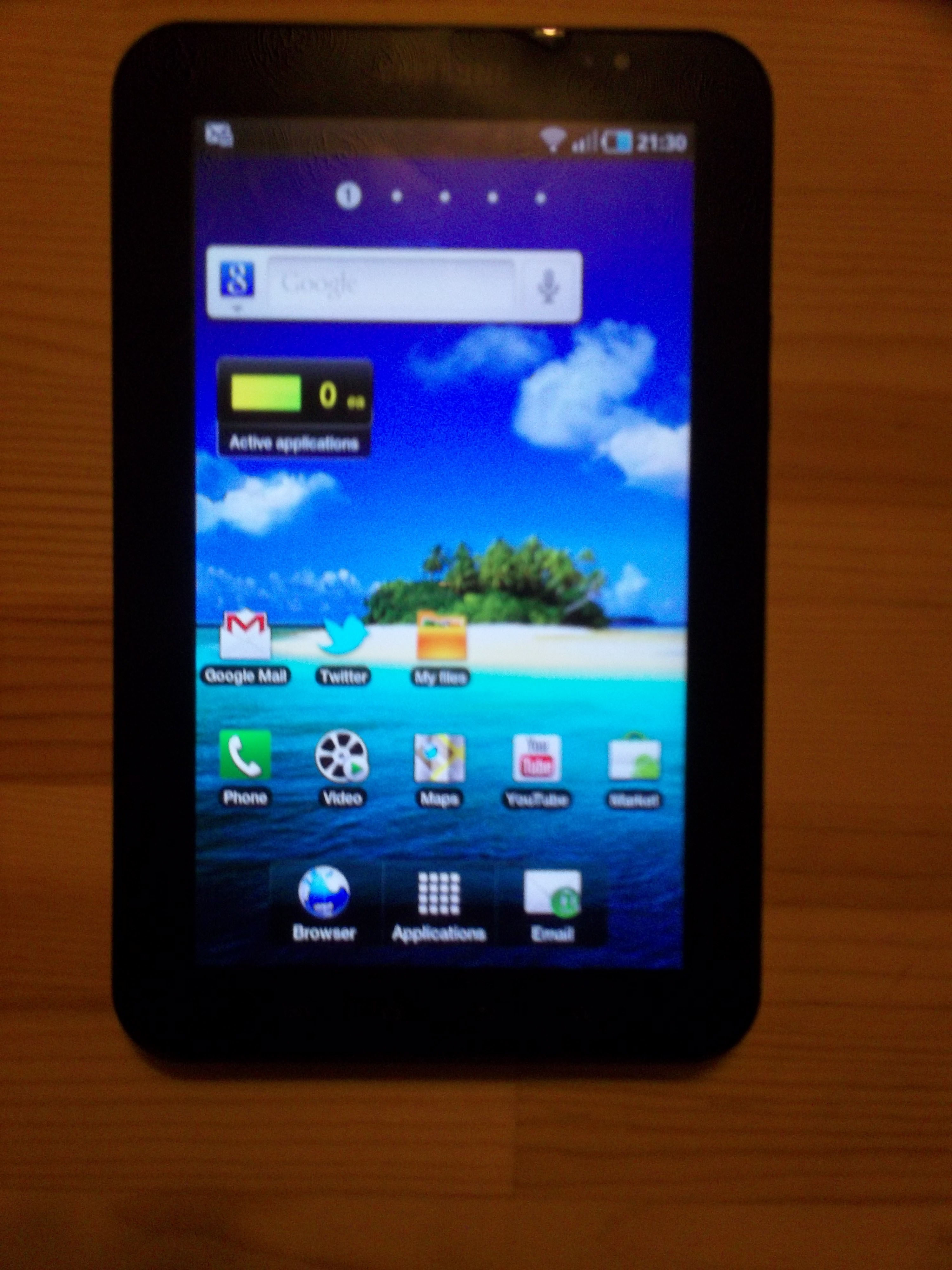 to be released in under a month I thought I'd get to grips with its little brother, the Samsung Galaxy Tab. I am by no means claiming to be a Samsung tablet expert, but, by looking at this model first I will be able to draw a more informed and accurate assessment of the upcoming 10.1.
The
Galaxy range
of Samsung devices are beginning to make a real name for themselves in the market. The Galaxy S2 dual-core smart phone is one of the most popular and sought after Android phones available at this present time, so it comes as no surprise that the 10.1 is being eagerly anticipated.
Anyway, back to the 7″ screened Galaxy Tab at hand.
There is only so much a manufacturer can do with a tablet given the restrictions of incorporating the screen and the other hardware but Samsung have certainly made their mark here.
The first thing you notice is the striking contrast between the front and the back of the tablet. The ever-so-slightly curved back of the Galaxy Tab is one of the whitest shades of white I've ever laid my eyes on.
Moving around to the front, there is a flat black bezel surrounding the screen, with only the usual four, touch sensitive, Android navigation buttons for company.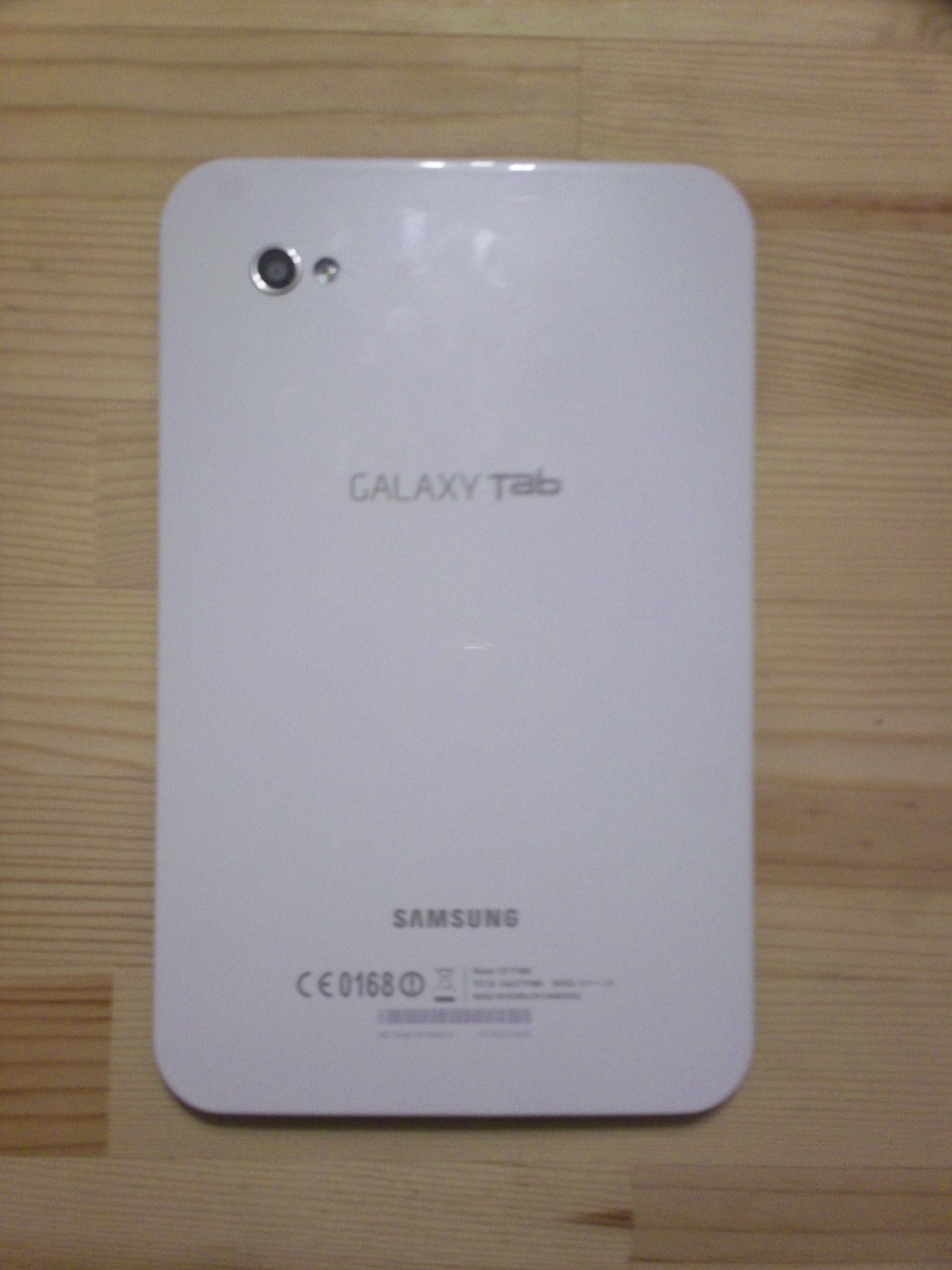 The Galaxy Tab is more rectangular than square but the silky smooth curved corners mean the overall shape looks a lot more pleasant.
As for the edges, the headphone jack is along the top and the power button, volume rocker, sim slot and MicroSD are all situated on the right edge. Just like the iPad, the USB port/charging port sits central along the bottom of the tablet.
You're hardly likely to pull a muscle of even break a sweat when holding and carrying around the Galaxy Tab as it weighs 380g. This, combined with a depth of just under 12mm, makes it ideal for holding in one hand.
Furthermore, your easily able to wrap your hands around it and comfortably type away with your thumbs, just like you'd do on a smart phone.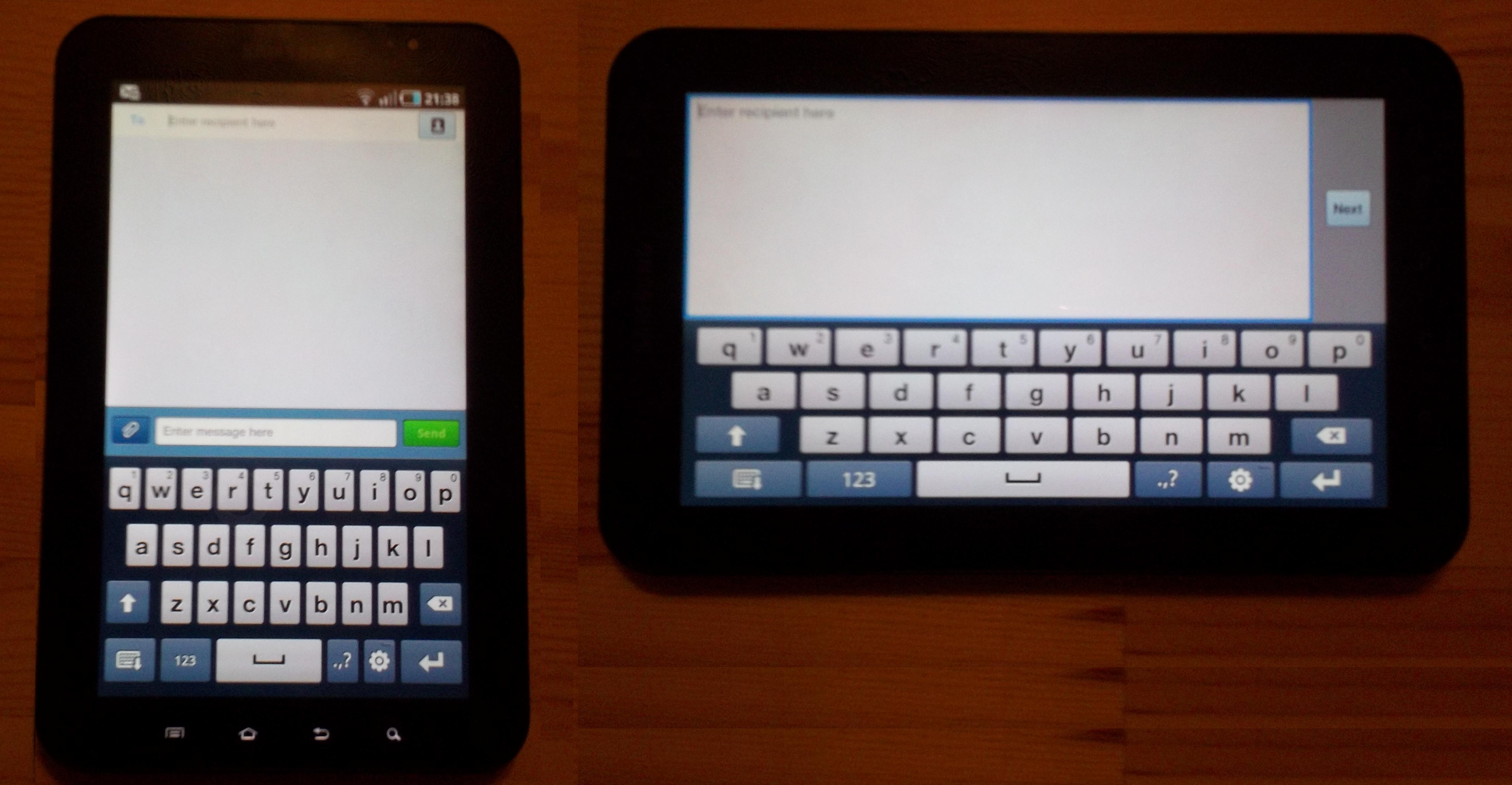 Unfortunately, unlike the Galaxy S2 that I mentioned earlier, the Galaxy Tab does not have a Super AMOLED screen. That said, the 1024×600 resolution LCD screen is impeccable.
In fact some people have even stated that it's over saturated, which is a bit ludicrous given that the strength of the colours and brightness go some way toward resolving the common tablet problem of viewing angles.
The Galaxy Tab features a capacitive touch screen that is as sensitive as diehard Harry Potter fans struggling to cope with the realisation that there will be no more books or films. Basically it's very good.
Finally another area in which this Samsung tablet excels is the four-way accelerometer. Unlike the Creative
Ziio
I reviewed, which faired rather woefully, and the
Archos 70
, which was marginally better, the Galaxy Tab's accelerometer adjusts the screen in a matter of milliseconds.
The dual cameras included on this tablet are very useful.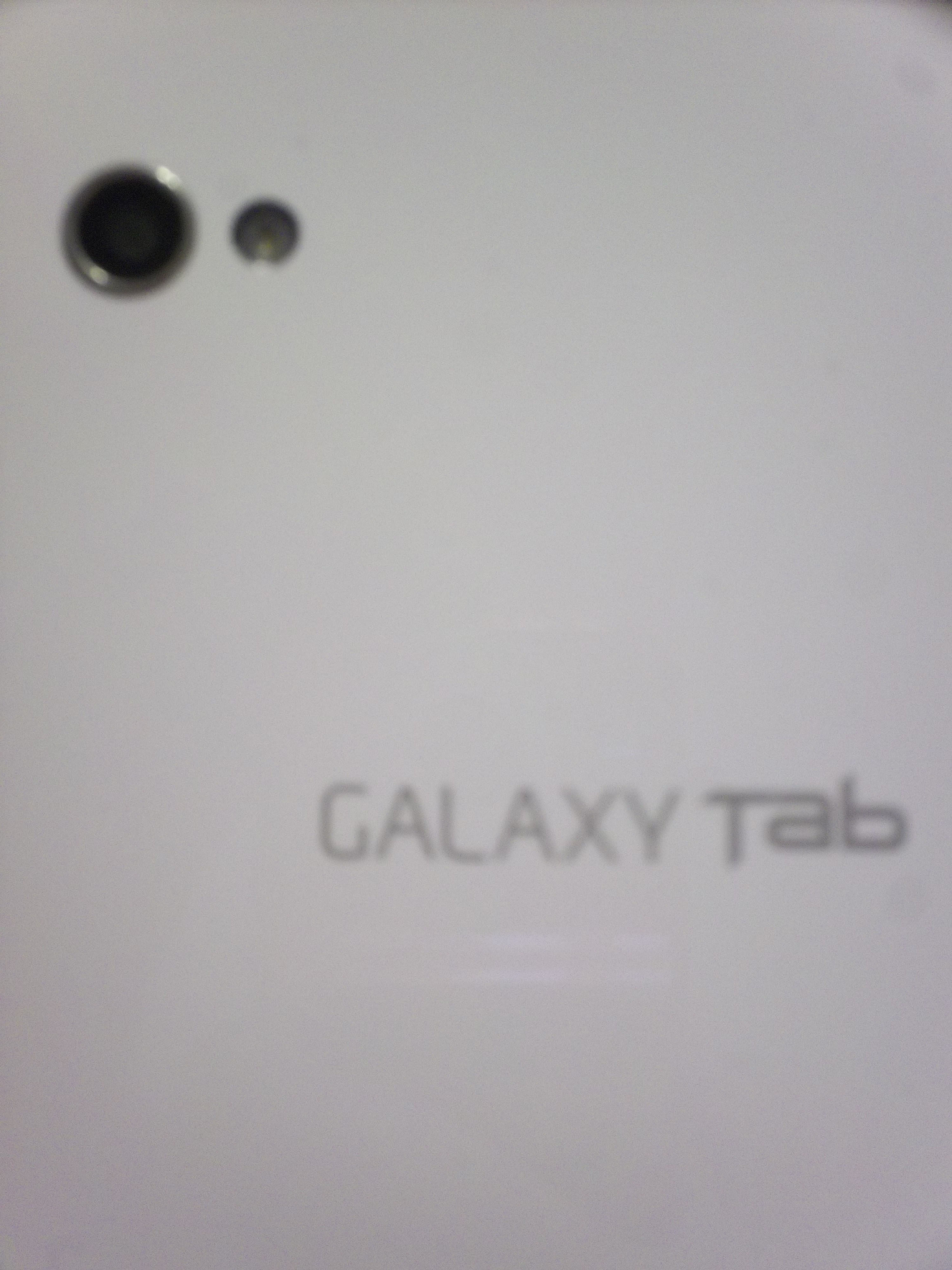 The Galaxy's rear 3MP camera, with flash, does not rival top range smart phones or point and shoot digitals in terms of image quality, nonetheless, shots are of an acceptable standard.
The front facing 1.3 MP camera serves it's purpose as being manageable for video chats and checking if you have any toothpaste left around your mouth as you rush out the door late for work.
Whilst the tablet can play HD videos, disappointingly, it can't record them. It only manages 720×480 at 30fps.
All of these features are operated using the usual Android interface, which is easy enough to get the hang of. There is also a continuous shooting mode along with a panoramic mode.
The Galaxy Tab has a 1GHz processor, which may not sound like much, especially given that the S2 has a dual core, but it packs enough of a punch to make sure everything runs smoothly.
The 16GB internal memory, which can be boosted with a MicroSD card of up to 32GB, is room enough for you to store a few hundred songs and a small number of video clips.
Samsung have also included flash player 10.1 support on this tablet. Game, set, and match? Not quite but it's certainly a step in the right direction.
Whilst BBC iPlayer and other sites can be used because of the flash, they are often very slow to load. Additionally, many flash heavy sites and flash games have not been optimised for use on Android and tablets, which is where the inclusion of flash falls down a bit.
Some of the features are restricted until you put a sim card in the device, however, once you fire one in you can immediately see the benefits. Phone call, all be it only available on loudspeaker or with earphones, and sms capabilities mean there is no need to panic if you forget your mobile.
The onboard music player does not come close to the iOS equivalent but the range of compatible audio formats goes some way toward making up for this. MP3, ACC, OGG, WMA, FLAC, WAV and AC3 are just some that formats which will work with no problems.
Again, when it comes to videos, simplicity is the name of the game. Everything is boldly and clearly laid out.
Youtube videos also loaded in a matter of seconds and looked better on the 7″ screen than they do on my laptop.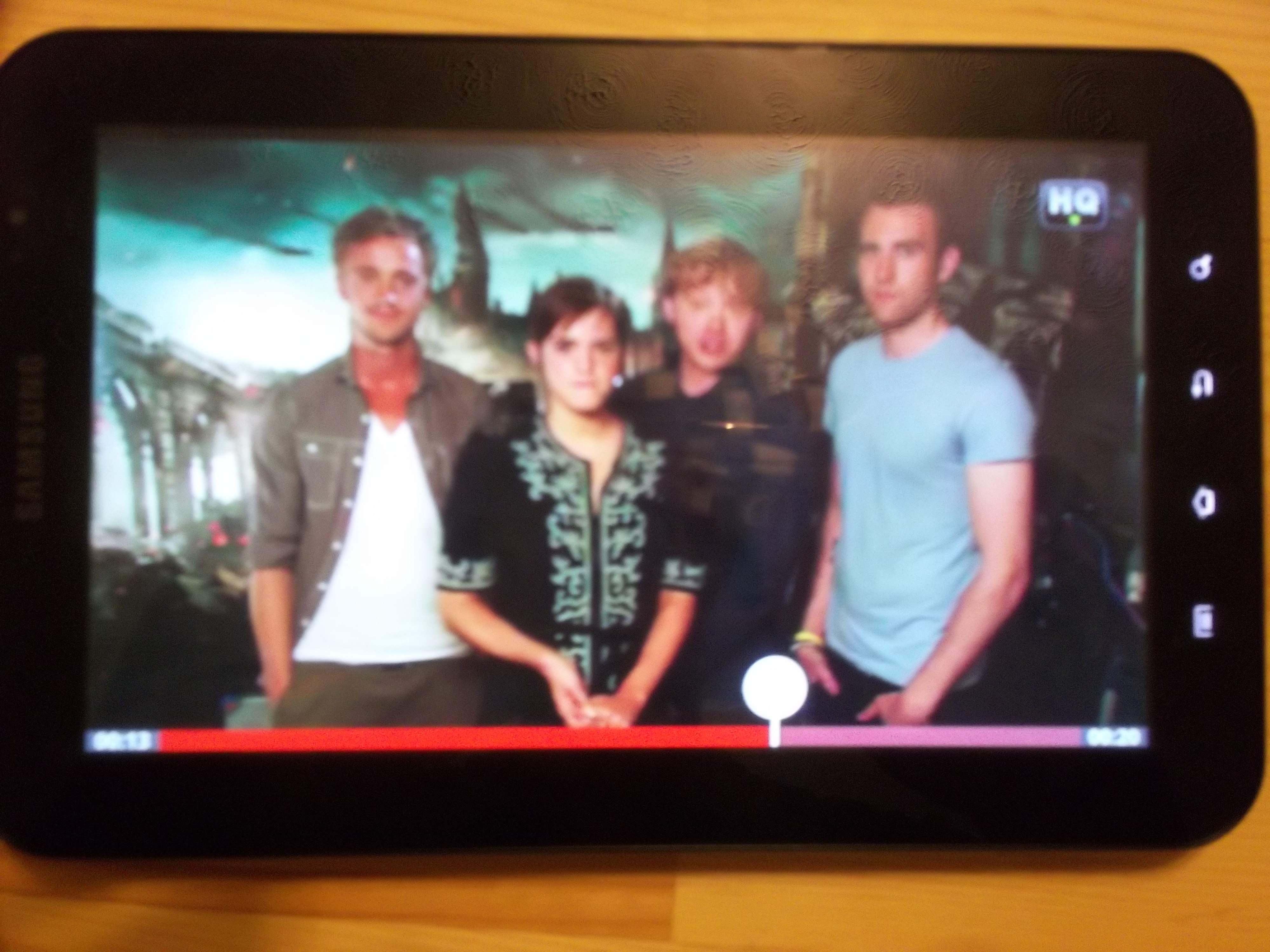 The Galaxy Tab runs Android 2.2 (Froyo) with TouchWiz, which loyal Samsung customers may be familiar with. The cartoon like style it brings to the table is not everyone's cup of tea but it undoubtedly brings a breath of fresh air to a potentially bland lay out.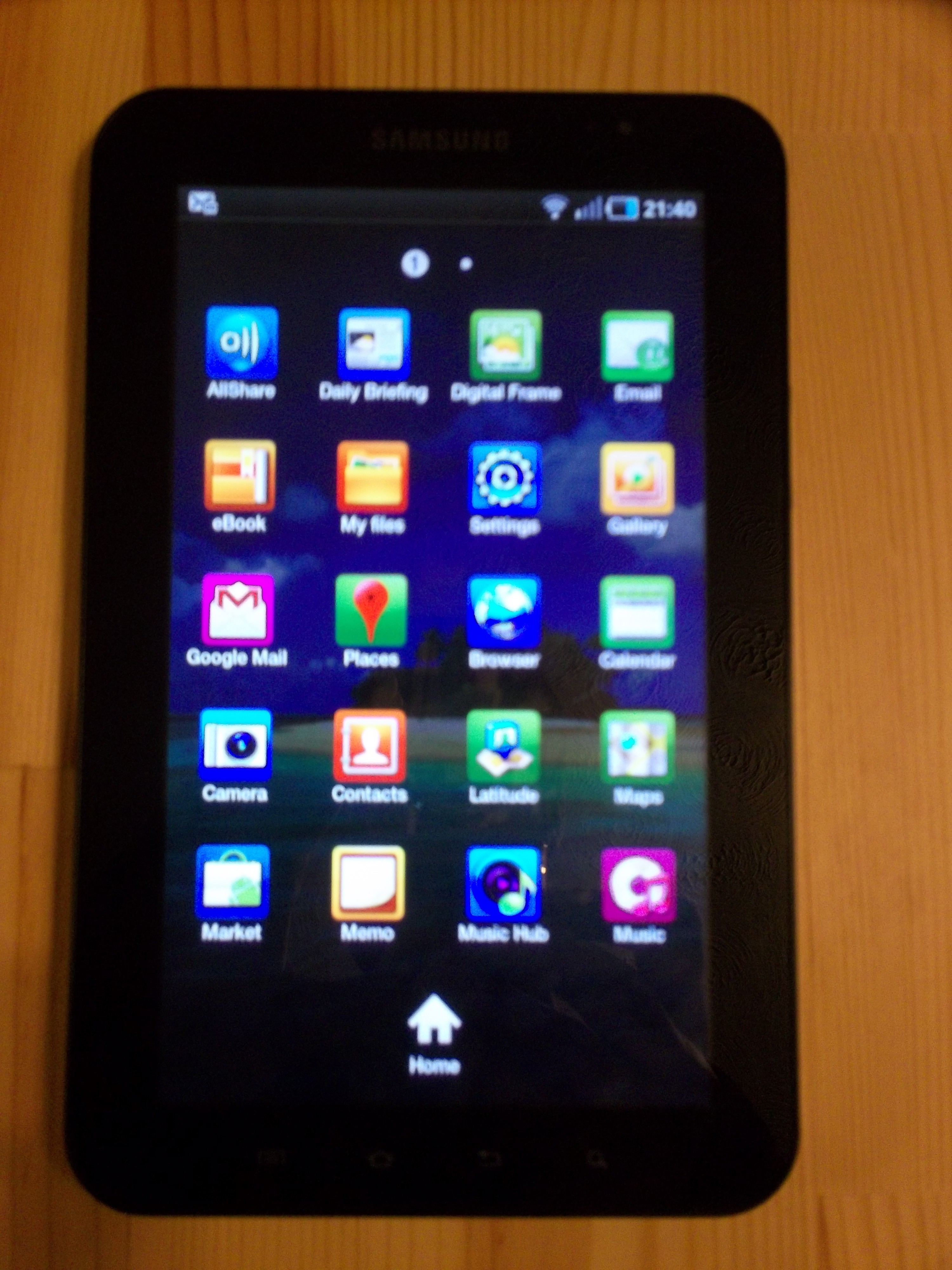 The overall layout of Android seems to suit this tablet down to the ground. The keyboard fits perfectly, the app menu and the home screens are well organised and do not come close to looking cluttered, which is a problem I've encountered all too many times on Android devices.
Occasionally, at times, it can become a little bewildering when it comes to app stores. The Galaxy offers you the Android Marketplace, The Music Hub, the Samsung Apps store and the Samsung eBook store. Not good if your rather indecisive or easily confused.
Also a couple of apps double up. The Email app along with the Google Mail app do the same thing, this is again the case with the Lattitude app and the Maps app. It's just a waste of space and precious memory.
Samsung set the battery life benchmark at around 7 hours movie play, which I find hard to believe.
After playing around for a few hours; making calls, listening to music, watching a video, downloading apps and web browsing, the battery had fallen from 80% to below 50%. Granted I did have Wi-Fi on and the screen was set to it's brightest setting, but I was still shocked.
Another little niggle is that the Galaxy tab only charges when plugged into the wall charger.
When it's docked to a computer, via the USB, it only holds it charge, rather than boosting it. It has to be said I don't ponder very often but Samsung's logic on this one had me stumped. Very puzzling.
The Galaxy Tab may, at one time, have been the best Android tablet on the market, with it's neatly and stylishly formed outer shell, stunning display, dual cameras and simple yet very functional interface. However this all became meaningless when the iPad 2 was released and, even with the ability to make and receive phone calls, the Galaxy Tab is still leagues behind.
Now priced at a respectable £260, the Galaxy Tab, best described as a smart phone/tablet cross, is still worth considering if your looking for a portable and stylish tablet for general use.
Depending on what trousers your wearing it may even fit in your pocket. Skinny jeans are a no-go but I will stick my neck out and say that if your day job is being a clown then this would certainly fit in your trouser pocket.
After playing with this Samsung Galaxy Tab I am almost certain that the 10.1 could and should be a real threat to the iPad 2. Every piece of specification for the 10.1 is at least two notches up on the specs of this tablet.
Android, along with Google, have come along way, developers have learnt from their mistakes, and the 10.1 could finally provide a viable alternative to Apple's iPad.