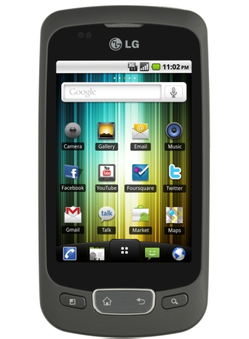 It could quite possibly be the longest time I've road tested a handset… Back in November I was kindly loaned an LG Optimus One – and it's been in my pocket, nestled next to my usual HTC Diamond 2 every since. Then Christmas came and print deadlines beckoned. Before I realised it, it had become part of my everyday kit…
The LG Optimus One is a neat, powerful smartphone that treads the fineline between fancy functionality and basic phone features beautifully.
The Optimus One is similar in size and form factor to HTC's compact Hero (which I quite like, incidentally), but the Optimus One feels more substantial and robust in your hand. The moulded, concave back in smooth plastic, the screen-protecting front in black rubber – it's a heavyweight handset.
Running Android 2.2, the 3.2 inch Optimus One the display resolution is fairly low.
Still, it boasts a capacitive and very responsive screen, which feels solid enough to the touch and responded well to the apps we used. Occassionally, typing proved to be a bit of a chore when the handset was held vertically. But that's a niggle rather than a complaint.
LG have customised Android a little to fit with the handset. It's a gentle tweak – with a custom dock to complement the physical buttons at the front and bottom of the handset. You can define and configure multiple home screens, though we found we were often happy enough going to the Optimus One's custom app page, where you can sort by category to quickly find your favourites.
It seems a bit of a disservice to tag the Optimus One as an entry level device. Some of the specs bear that out but, seriously, in daily use and operation we rarely missed functionality. The 600 Mhz CPU powering the Optimus One was fine in most circumstances, only stuttering and moaning a little when trying to tackle larger, more complex web pages. And it streamed video over YouTube at smooth rates and resolutions, when connected to WiFi.
The bottom line? The Optimus One is a chunky, serious feeling phone that has much of the functionality you'd expect from more expensive models. Incredibly, it's available free on an £18 monthly contract over at Three, for example. I was happy to use it as my main work phone for close to two months – using it mainly to check mail, Twitter, Facebook and to track stories online. Well worth switching if you're in the market for a better handset but don't want to pay iPhone prices.