Review: HTC Hero Graphite - video
I don't need another Hero, because, I already have one, and carrying around more than one phone is a bit silly, isn't it? Unless you're a crack dealer, of course, in which case – you should really choose a bog standard Pay As You Go – not the universally lauded HTC Hero.
Me? I've been LOVING an HTC Hero Graphite – on loan from Orange – for the last couple of weeks. I've been squeezing it and hugging it and calling it "George". My usual HTC Touch Diamond, slimline and sleek as it is, like a miniature of the obelisk from Kubrick's 2001, is jealous. Let's hope it doesn't get the hump and turn me into a space foetus.
Anyway, me and George, we've been romping around the north of England, Twittering and listening to Spotify Premium, sending photos to Flickr and, occasionally, we've even been making calls. But, that bit's boring, innit? You want some stats.
The HTC Hero is an Android smartphone – HTC's third – with a 3.2 inch HVGA, multitouch display that's oh so crystal clear , a proper headphone jack when you want to leave the iPod at home and a built in 5 megapixel camera. For people who like to take pictures with their phones. I hear that's all the rage.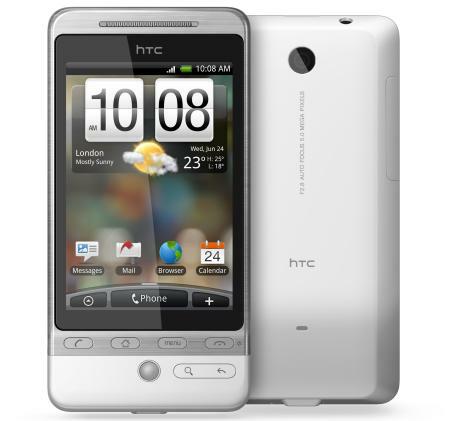 A recent survey shows that HTC are the unlikely second most popular smartphone manufacturer after Apple. I'm not surprised really. They're the George Harrison of the gadget world, quietly producing stylish handsets. Some of which look nothing like iPhones.
Take the Hero, for example. The case is plastic with a solid metallic upper. It feels heavy and substantial. I'm reliably informed by some bloke in a mobile phone kiosk in Huddersfield that phone manufacturers do this on purpose. They make their otherwise flimsy products feel chunky by putting in a bit of ballast. The Hero's styling is unusual too, with a tilted "chin" that reminds me of the 60s Trimphone – and what can only be described as a little rubber nipple for navigation. Ah, yes – the nipple. A firm, tactile nubbin that flicks you through app screens without leaving KFC residue on your precious display. Nice.
What makes the Hero so want-able though, is the UI. HTC's Touch-Flo 3D interface has been through several incarnations, but the Hero's Android based version is by far the most intuitive and responsive.
It makes iPhone OS look like Windows 3.1.
OK – I exaggerate. I love the iPhone as much as the next techno-hack – but seriously, Apple's handset gets far too much uncritical praise, doesn't it? The balance needs to be redressed. The HTC Hero is a fantastic, functional phone. Yep – a real, genuine phone you can use out in the field and the valley and the urban caverns of, erm, Swindon (coverage permitting). It's not just a baby PDA.
Best of all, when you get it out on the train, you can guarantee that the bloke in the baseball cap and shellsuit waiting to get off at Warrington won't be toting a similar model to you. Think Different, indeed.
Here's what the folks at Stuff Magazine had to say about it: