Review: Aiptek i2 3D camera - Great fun, very cheap!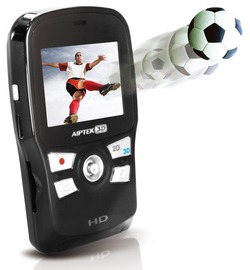 Like it or loath it, 3D is here to stay and will literally invade your personal space at some point in the near future whether it be in the cinema or at home.
It's actually quite rare for a film to be released without a 3D version coming out first, and you already have a wide choice of 3D TVs available.
Here we're looking at Taiwanese manufacturer Aiptek's 3D pocket camcorder, imaginatively called the Aiptek 3D.
This is the first affordable 3D camcorder that actually does a decent job of 3D video.
I love this little gadget, I use it for work and at home and it always gets envious looks from people packing insanely big lenses on their SLR cameras or budding Stephen Spielberg types with high tech camcorders.
As you can see the camera is like the, soon to be obsolete, Flip but it's a bit bigger and with an extra dimension (of the third kind).
The Aiptek records 3D in 720p HD footage using two lenses and two image sensors sat roughly the same distance apart as your eyes.
It then merges the two bits of footage together to give a 3D effect.
The 2.4-inch 3D panel shows your 3D video without the need for glasses and truly has the wow factor the first time you view it. To view the videos on your computer you'll need some software supplied that it comes supplied with and some neat red/cyan glasses from the 80s.
Video can be uploaded to YouTube in 3D and you can also watch your footage by hooking it up to a 3D TV via a HDMI cable.
Other than the 3D features, it can also shoot in 2D high def and can take pictures too which are all easy to switch to using the dedicated buttons on the front.
With a retail price of around £120, the Aiptek 3D is firmly at the cheaper end of the market and for that reason it's great fun and worth experimenting with until 3D becomes firmly part of the mainstream.