Review: Acer Liquid E - A bit wet.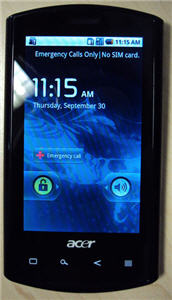 We like: The look, the screen and the widgets.
We hate: No customised UI, unresponsive capacitive touchscreen and no LED flash.
When I heard Acer were about to release a smartphone, my assumptions had been confirmed that now Google has made Android so open, literally anyone could make a smartphone.
Looking back to a few years ago, most manufacturers would've felt that it would be far too difficult to compete in the mobile phone market. Forget about creating the hardware, that wouldn't be too difficult but to make a UI that can compete with Nokia and Sony? That would be difficult.
I'm sure the likes of Dell and Acer would've had meetings to discuss the possibilities but wouldn't have taken it further than that. Now we have the Dell Streak breaking new ground and the Acer Liquid E which is a bit of a let down.
The Liquid E is an updated version of the Liquid that didn't do very well. This version sports Android 2.1and a lovely, large screen.
Looks
I like the look. It's a shiny piano black with no buttons, just a very slick row of touch-sensitive buttons taht sit under the screen.
I've heard people say that they feel the phone is too wide. I agree that it does appear wide but when placed alongside other handsets you realise that it is wider, but not by much.
Fingerprints on the screen can be a problem, especially when it's locked but when the screen is on it's not a big deal.
The screen is nice and bright with WVGA resolution, although compared to retina display and super amoled it's behind and I found the capacitive touchscreen somewhat unresponsive compared to the iPhone and my Desire.
The onscreen keyboard wasn't great either. The keys seemed small despite the wide screen, that coupled with the capacitive screen made me somewhat disappointed. That might be just because I'm going from a Desire and iPhone.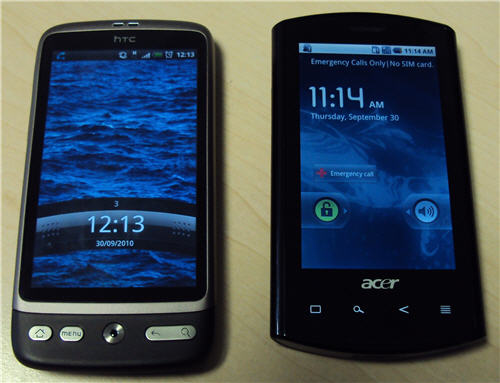 Chips and vinegar
Like most Android phones, the Liquid E packs Qualcomm's 1GHz Snapdragon processor with Acer clocking it at 768MHz.
That's great for battery life but bad for running a tonne of apps. It really depends on what you prefer, personally I like to manage my battery myself but most people would be happy with better battery life. You can still expect to charge the phone every two days or so.
Acer hasn't customized the Android interface which is bad when you look at what Samsung, HTC and Motorola have done but it's still not bad.
Customisation and hardware are what separates Android phones apart and while the Acer hardware is decent, the lack of customization means you don't have anything extra compared to other Android handsets.
I like the widgets they added though, especially the bookmark wheel that displays thumbnails.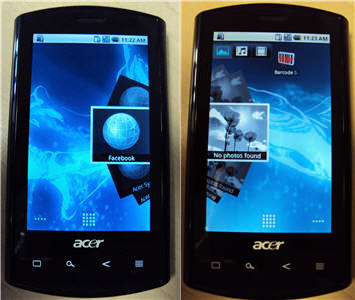 Hardware
The Liquid E's 5MP camera isn't bad. It produces some clear pics with nice colours for daylight snaps but the lack of an LED flash hinders its performance indoors. Photos taken in low light look terrible.
Conclusion
If I'd got the Acer Liquid E 12-18 months ago then I would've been impressed. It does everything you want to a reasonable level, it's solid and works well.
But for those of us that have come accustomed to HTC Sense, Motoblur and an extremely responsive capacitive screen then this isn't the phone for you.