This is a guest post by Fiona O'Cleirigh
The Raspberry Pi is small – 'a credit-card sized computer' says its blurb – and flexible, good for both general desktop use and electronics projects. And there's a new version out.
If the Raspberry Pi were a car, what would it be? Not a Bugatti, appealing as it does to the Heath Robinson end of IT society. It's cheap, so Bristols and Rollers are out too. It isn't as ubiquitous as Ford nor as staid as a Volvo. And you wont see it on Top Gear.
Computer Weekly has therefore rolled up its sleeves and taken the new Model B+ for a test drive.
With literally no expenses spared, the squad was recruited from top experts. Running the CW driver's team was a senior enterprise architect who works for a global financial services firm. For the sake of professional anonymity, we shall call him 'Jim'.
Our three teenage drivers – 'James', 'Edward' and 'Nicholas' – were picked for speed and resilience. And also because they happen to live in a house where there is always at least one computer nearer than the nearest London rat, ie within twelve feet (3.66 m).
So, what's under the bonnet? The new Pi is really an upgrade, rather than a new model, improving the B type's performance and layout.
The B+ has the same processor, the same RAM and can run the same software. Although it is the same size, however, the B+ won't fit into the case designed for a B-type, due to the rearrangement of the board.
All the ports are now neatly arranged on two sides, rather than distributed around the board, and there are now four USB ports compared to the model B's two. A four-pole composite and audio interface – a jack of all trades, one might say – has replaced the video and audio sockets.
Pi aficionados are excited by the replacement of the old plastic SD slot – which could also handle micro SD – with a metal micro SD-only slot. This reviewer was not so pleased, as it meant finding a new micro card.
And while the new slot is undeniably sturdier, compared to other computers the rest of the Pi is physically as delicate as a Meissen teapot.
The Pi's fragility belies the robust new power circuitry, which has been rearranged and made more efficient with a switching regulator. If you use batteries, they should last longer, and the Pi should be better equipped to tolerate irregular or low voltages .
Despite its exposed components, encasing the Pi in Perspex makes less sense for the B+, than its predecessor. The back of the board is almost as interesting to the adventurous as the front, with lots of test points included. And for those looking to hook their machine up with real world objects, there are an extra 14 General Purpose Input Output pins, making a grand total of 40.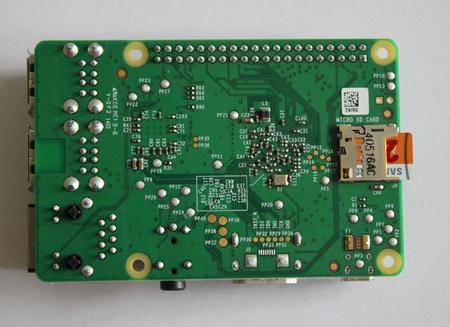 Checking the undercarriage
A Pi shares some of the characteristics of the human baby. Cute to behold and costing next to nothing itself, the bill for accessories can stack up.
One bundle that CW has admired (and would very happily review if one is sent over) is the very pretty and pretty useful portable HDMIPi screen set.
Made by CynTech and designed especially for your favourite cheapo computer, the HDMIPi monitor comes in various packages, from the no-power-cord-included version (£75) to full bells and whistles (£160), with assorted cables and wireless inputting devices.
For this enterprise, however, we fitted our fitted B+ into a more traditional rig of monitors and mice. Wired up into a networked testbed, it faced a punishing schedule, designed to answer three key research questions.
(1) Does the Pi meet its PR claims? (2) More importantly, can you run a high graphics game on it? (3) Is it useful for odd standalone projects?
Other than the features that can be checked off visually (yes, all pins present), the testable upgraded features are the improved power circuitry and audio. With no particular desire to hit the Pi with transformers, testing was restricted to seeing which Pi, the B type or the B+, played a certain Rodrigo y Gabriela flamenco number more impressively.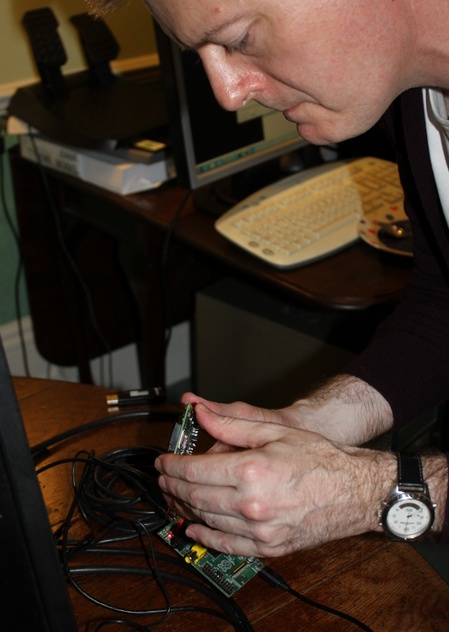 It's an audio jack, Jim, but not as you know it …
The Results were inconclusive due to a dead heat. Neither would play anything. This may have been down to tester error or, more likely, according to our technical specialist, "something up with the speakers".
For those with more time, or less need to move on to more pressing tasks such as playing Minecraft, audio configuration instructions are available online.
Cue the teenage driving team. There were two options for Minecraft, the open world game of building and territorial exploration.
The game can be run with the RAM and processor-challenged Pi acting as server or as client, but not both.
For the first pass, we decided to set it up in server mode. Nicholas slid behind the controls with what can only be described as practised ease. The Pi was less responsive, striving gamely to deliver but running with a 9 second lag and stalling at critical moments.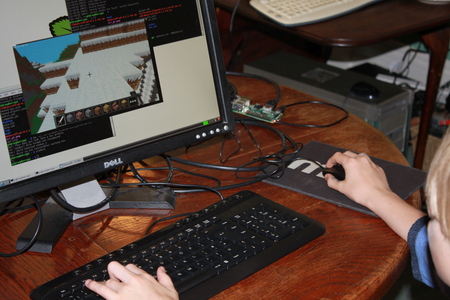 "Oh look, I'm playing Minecraft on a bad server"
The Pi was much happier serving as client, although its tester clearly was not. The game was at its most basic with, critically, no pigs, an essential ingredient in the modern version of the game. Nearly as bad, the TNT barrels did not explode in this rudimentary version. Check out Minecraft.
All three testers piled in joyfully to play a variety of early computer games, all written in Python, including Snake, Tetris – "Ha! It's just one block at a time!" – and the messy favourite, Ink Spill.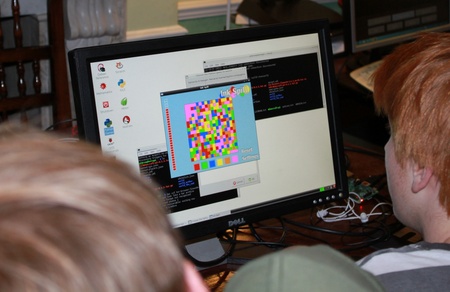 Ink Spill
Scoring not very highly for graphics use, the B+ was then dedicated to a nobler cause.
Our testing team finished late in the evening, after testing the Rasperry Pi's capability with encryption. More on that later.
Our conclusion: the Pi is not an all-terrain vehicle. Something of a rugged but not so speedy army Land Rover on the encryption front, it is, quaintly, the Robin Reliant of gaming.
In terms of neoclassical looks and general desirability, it seems more Mini Cooper than Lamborghini. And with the exchange rate set at over five hundred Raspberry Pis to the modern Mini Cooper, we're not complaining. Perhaps a trip to the Arduino trailer-park is in order…