REVIEW: Motorola Razr i, RRP £344.99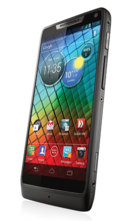 Motorola's latest offering in the form of the RAZR i, comes with Android 4.0 Ice Cream Sandwich and what Intel claims to be the fastest chip ever placed in a smartphone.
It is Motorola's first phone to launch in the UK after the Google acquisition and after getting my hands on it, it seems to be leading the way in the mid-range smartphone market.
Launched at the beginning of this month, the phone contains the Intel Atom providing up to 2Ghz of speed. The Android software runs without hitches, yet there are some compatability issues with the Intel chip. As pointed out in Pocket Lint, some applications do not run, such as Adobe Flash Player, which means you can't run apps such as BBC iPlayer or ITV Player.
It may be that this hasn't been addressed as Flash is no longer in its prime, however it will be interesting to see if Motorola rectifies this, or waits to see if developers make changes instead.
OK, so not the best start. But first impressions in the looks department and, yes it is another "Black Mirror", but press the unlock button and a gorgeous bright screen comes to life. Another big claim for the device is that it has a 4.3 inch 540×960 screen which "goes right to the edges." And it does indeed go right to the edges of the screen, avoiding that black frame you get with other smartphones.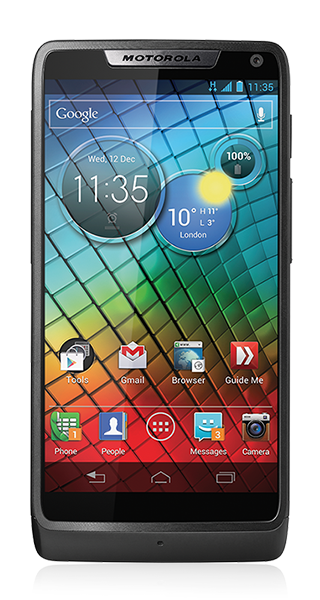 It also sits really nicely in the hand at only 126g and even with the Intel chip powering away, the 2000 mAh battery will keep you going for the day.
I particularly like the widget that comes with the Motorola overlay. It is made up of three circles of varying sizes which are customisable. You can select for text messages, missed calls or voicemails to rotate in the circle which provides the time. You can also turn over the middle circle to see the weather in preselected countries. The smaller circle also provides you with how much battery you have remaining.
It just makes the homescreen feel very personal. And after all that, if you're a more angular person and despise circles you can still remove it from the homescreen, nice to know you're not stuck with it, even if it is a Motorola addition.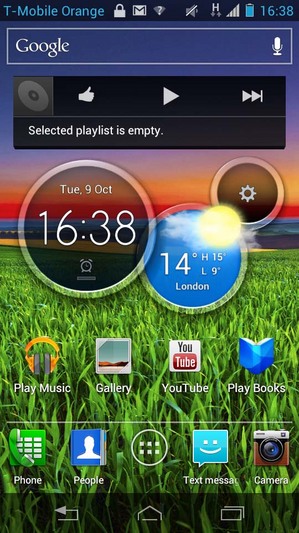 Screen which homes intuitive pages as well as widgets. The phone offers personalisation of pages as Android standard, but a suggested "Mobile Office" page is very useful to install right away to "get work done anywhere, anytime" with Quickoffice, email, calendar, bookmarks and SmartActions all set up and ready to go in the click of one button.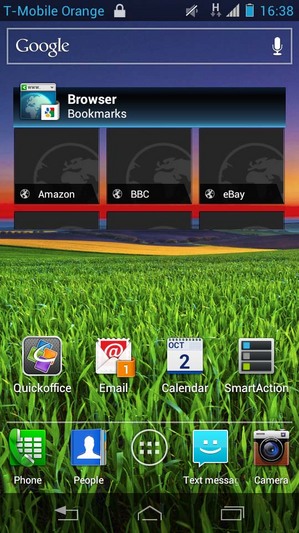 The phone has a dedicated camera button to be able to launch from screensaving mode in under a second. The 8MP camera could possibly compete with the upcoming
Nokia Lumia 920
. While it doesn't have as many fancy editing software, the instant-launch camera can capture 10 images in less than a second, which I found very impressive and made my iPhone 4S camera seem about twenty years old.
The phone isn't enabled for 4G or NFC, and doesn't have any fancy wireless charging (or thank god come in luminous highlighter colours), but this phone isn't trying to set a fashion statement or be the first to conquer anything. This is a quality mid-range smartphone that does everything you expect it to do quickly and efficiently, while lasting longer than an iPhone.
Available sim-free from Amazon and Expansys for £344.99, or £342.99 from Clove, or free on various networks on contract.
T-Mobile's Business SIM-only plans include a 30-day or 12-month plan whilst getting up to 2000 minutes and a Flexible Booster, plans start from £10 per month.