On the twelfth day of Christmas my true love gave to me... a FitBit One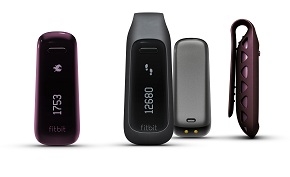 So, we are on the brink of Christmas day. Ahead of us stretches 24 hours of gluttony, stuffing our faces with turkey, Christmas pudding and Toblerones the size of the gaudy tree in the corner.
If we are honest, the whole of December has been an indulgence. Here at Inspect-a-Gadget we have glugged more fizzy wine and devoured more chocolate oranges than we thought humanly possible in the festive build up.
But, we need to start thinking about after. Sorry to be the party pooper but we all know January is the month of the hard slog, back on the treadmill and detoxing the system of all the yummy treats it has had during the season to be jolly.
One of the major trends in gadgetry for the past few years has been to centred around this, using technology to help us along the way to achieving those Adonis like bodies… or at least shedding some of the post-Christmas flab.
Enter FitBit, the latest company to launch such a gadget and one that is turning into a bit of a craze.
FitBit has a range of devices depending on what you are willing to pay, but we had a play with the mid-range device, the FitBit One. It is designed to track your activity throughout the day and night, with particular features for monitoring how many steps you take, how many floors you climb, how many calories you burn and how many miles you travel.
With the FitBit One specifically, you can also analyse your sleep, from how long it takes you to dose off to how many times you wake up in the night.
The device itself very sleek looking in black with a single button and LED display. It comes with a rubber case for attaching it to a belt or strap and a very soft wristband so you can wear it comfortably when you go to bed.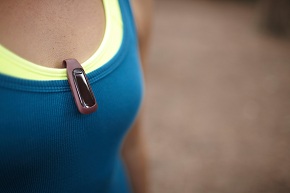 Set-up was incredibly easy with just a few steps involved. The FitBit needs a quick charge before you get going – the cable is included but is custom so don't lose it – followed by syncing with the machine. To do this, you plug in a very small wireless dongle, meaning you don't have a huge lump of plastic stuck out the side of your laptop, and press the button on the gadget.
Then all you have left to do is register on the website. FitBit.com is really the glue that holds this device together. Yes, you can click through the LED screen to see how many steps you take or look at the flower which grows depending on how active you have been. However, by syncing your device regularly, you can compare your activity on different days, get into the nitty gritty of the sleep analysis and really use the tool for its full purpose of getting fit.
s well tracking through the device, the website offers options of putting in food diaries and keeping track of your weight. You don't need to do this, but I found it really useful to have all the information kept in one place with a simple, inviting web interface that was easy to navigate and to get as much or as little out of it as the user sees fit.
Not all was perfect with the FitBit One, however. The clip, which women are advised to wear on bra straps, wasn't always that secure and during intense exercise it often disappeared somewhere down my clothing.
It also was a little too big to wear subtly under a top, leading to a number of questions as to why my collar bone was sticking out quite so far and if it was as painful as it looked.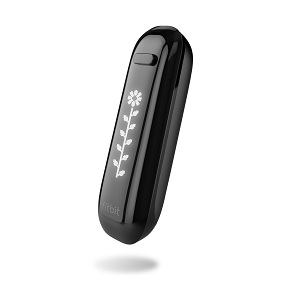 The silent alarm feature I didn't find very effective. The idea is you can set the alarm to vibrate when you wear it around your wrist to wake you up without disturbing anyone else in the room. I tried it at a weekend and it did just about rouse me, but as a heavy sleeper, I wouldn't want to rely on it every morning.
The price was the final sore point for me. This gadget is much more fun – if you are geeky and love playing with stats like me – than an exercise essential and at around £80 it seems really overpriced for something that tracks if you walk to the train station or get the bus.
However, I became quite obsessed with wearing it, earning the badges of how many floors I'd climbed or steps taken, and as someone who has experience with troubled sleeping patterns, I found those statistics fascinating.
For the exercise nut who believes in knowledge as power, it is a great gift, but it could do with lowering the price tag along with the waist measurement.