On the seventh day of Christmas my true love gave to me... a Nexus 7 tablet
MicroScope's Alex Scroxton takes the improved 16GB Google Nexus 7, widely seen as the tablet to beat in the 7 inch form factor space, for a test swipe.
With a couple of weeks remaining until the big day, Christmas 2012 looks like being the year of the 7 inch tablet, with offerings from Amazon, Apple and Google, among others, vying to be the belle of the ball. I took Google's 16GB Nexus 7 – widely regarded as the one to beat in the 7 inch space – out for a spin to find out what all the fuss is about.
First things first, physically speaking this is a nice gadget. It feels well put together and definitely better quality than its £159 price point would suggest, clearly Google's OEM partner Asus has put some work into this baby.
The power button and volume controls are tucked away discretely on the side while its micro USB slot, 3.5mm headphone jack and speaker are down at the bottom. The whole is backed with a dimpled, sealed plastic back, which is pleasant to hold, doesn't show up fingerprints, and gives you the impression that the thing could take a couple of knocks if it needed to, although I didn't test that out…
The seven inch screen with 1280 x 800 resolution is a pleasure to look at in most conditions, and of superior quality to some more expensive tablet options. Video played smoothly and looked great.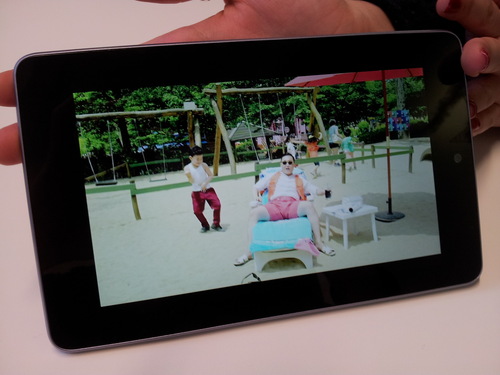 Under the bonnet an nVidia Tegra 3 quad-core processor and a gig of RAM once again gives the Nexus 7 comparable oomph to something much more expensive. In short, it's quick and slick.
However it's not all sunshine, lollipops and rainbows; the lack of a microSD card slot will be a drawback if you want to beef up the storage capacity, and although Google is really pushing its cloud storage options with the Nexus 7, limited connectivity options on the basic 16GB model mean that when on the move you can't actually get at anything unless you plug into someone else's Wi-Fi or use your smartphone as a portable hotspot. This could get very expensive very quickly unless, like me, you are lucky enough to have an all-you-can-eat contract, so for a mobile worker the Nexus 7 might not be the one.
Speaking of the Wi-Fi, the Nexus 7 does occasionally have difficulty connecting to a network. On a two hour train ride to Birmingham it resolutely refused to have anything to do with my phone's Wi-Fi, although this feature worked fine later on, and when I got to my destination – a castle in Shropshire if you were wondering – it struggled, although that may have been more down to the thick, 17th century stone walls than any failing on the Nexus 7's part. It turns out Oliver Cromwell didn't foresee mobile computing. Who knew?
The other issue on my snag list was with the 1.2MP top-mounted, front-facing camera, which is disappointing as a camera and really-badly designed for video chats – using Skype in landscape mode I had to hold the tablet at an awkward angle.
Setting up the Nexus 7 was a breeze. It was up and running in seconds flat and after I had tapped in my Google account details off it went and got me every app I use on my Samsung Galaxy and applied a sneaky Android OS update into the bargain! This turned out to be a blessing only up to a point, for as much as I appreciated having immediate access to Facebook, Twitter and so on, a week later I'm still finding and deleting some of T-Mobile's bloatware. You should also note that app availability for the Nexus 7 on 4.1 Jelly Bean is not yet great, and I was forced to give up, among other things, the BBC iPlayer.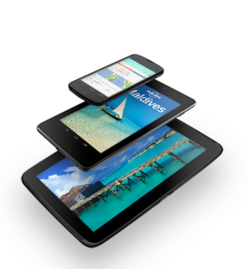 That said the Tegra in the tank means that the overall user experience can't be beat; with the majority of apps working quickly and smoothly and some, such as YouTube, seeming tailor made for the Nexus 7.
All-in-all, the Nexus 7 is a perfectly cromulent tablet and more than holds its own in the increasingly crowded 7 inch space. Would I buy one in a BYOD splurge? Probably not; for business use the 3G-enabled big brother will serve you better when Wi-Fi can't be found, but for personal use you could be paying much, much more for much, much worse.
Google recently extended its family of Nexus devices to include "small, medium and large". The existing Nexus 7 tablet now comes with 16GB or 32GB of storage as well as offering a version with mobile connectivity. The 7 inch tablet is also joined by the Nexus 4 smartphone and the larger tablet, the Nexus 10.