Nokia N900 review - Let the geek out!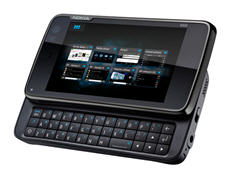 This is not really a phone review. Having had the N900 for a week or so, I feel it can be compared to smartphones but desperately want to be seen as a small tablet due to the operating system (OS) on board.
I like this phone but not as a phone. More a mini internet tablet.
Look and feel
The first thing you notice about the N900 is that it is HEAVY. Don't get me wrong, it is solid and feels like it would have to take one hell of a drop in order to leave a mark.
The N900 looks cool. Jet black, slightly understated and yet a bit edgy. It's too thick for my liking, when compared to an iPhone it's close to being double! And the iPhone isn't exactly the thinnest phone out there.
The keyboard is a bit difficult. I got used to it fairly quickly but colleagues with bigger fingers found it quite difficult to type at speed.
The buttons are quite close together but raised.
The screen is bright and the OS is quite colourful, only problem is that this is a resistive touchscreen as oppose to capacitive meaning you need to use your nail or apply pressure instead of just touching the screen.
brightcove.createExperiences();
Software
The N900 uses Maemo 5, a Linux-based OS that is the first of it's kind. I found it quite intuitive but a little rough around the edges.
The OS is definitely powerful and you always feel there is so much that can be done with it.
Slight irritation is that the only time you can use it in portrait is when it acts like a phone, otherwise you will always have it in landscape.
The N900 is all about Web surfing, multitasking and installing applications. If you're a bit of a geek (guilty!) then you'll enjoy this phone purely for the 'what if I try' factor.
The severe lack of apps is a huge negative and can put you off completely.
Audio and camera
The N900 has a decent 5-megapixel camera that takes pictures with two LED lights and video with 800×480-pixel video quality.
With 32GB of on-board memory, and room for 16GB more via a microSD card, there's no shortage of space for music and photos. It has a good music player and a standard 3.5mm headphone jack.
Verdict
I like the N900, I really do. It's roughness has a charm and you can really see that it will be capable of so much. For the time being though, it just doesn't deliver anywhere near the performance you'd expect of an iPhone or the Desire.
A lack of apps is a real shame and could be reason enough to steer clear.
There is an intrigue here though, a geekiness that is attached to a Linux-based OS but for most normal people that's just not a reason to plump for it.