Motorola Milestone XT720 review: SO disappointing (good camera)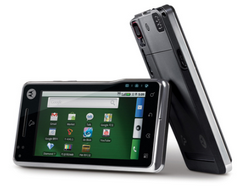 The Motorola Milestone XT720 is Motorola's latest flagship phone and while it's good, it definitely could've been so much better.
This phone has a 3.7 inch screen and a very strange design. Personally I think it looks horrible, I don't like the fact that it has this strange lump sticking out the side. I just feel the phone looks very dated.
The phone does have a decent weight to it and the battery lasts long enough for a good days usage.
Camera
This phone packs a mean 8-megapixel camera with Xenon flash, which compared to it's rivals comes second only to the HTC Desire HD and the Nokia N8.
It comes packed with some good features too. It has face detection, image stabilisation, the ability to set the ISO between 100 – 800, multi-shot mode and a series of scene modes like macro and portrait.
It can record video at 720p recording resolution, while the HDMI out means you can connect it to a HD-Ready TV and enjoy still images and video on the big screen.
Ins and outs
The main problem with this phone is that it comes with a measly 550Mhz processor and not a 1Ghz Snapdragon that most smartphone carry.
Is this a big problem? Yes, yes, yes. This phone is slower and less powerful than any others on the market. The HTC Desire, HTC Desire HD, Samsung Galaxy S and so on are all far faster and more powerful. For a flagship phone this is a huge problem.
Users will look to have many apps open at the same time, that's the reason you buy a high-end phone. To have a 550Mhz processor is not enough to play with the big boys.
The phone also packs USB, a HDMI out (mini), and a 3.5mm headphones jack. Inside there is a microSD card slot and you'll get an 8GB card in the box.
Connectivity is pretty standard with Wi-Fi, 3G, HSDPA and Bluetooth connectivity. There is also GPS for navigation, an FM radio, 256MB of RAM, 512MB of ROM and an accelerometer.
Software
This phone doesn't come with Motoblur which is quite surprising since it's on all of Motorola's other smartphones but does come with Android 2.1.
No Motoblur means there is no built-in social networking apps, but with the Android app library it's a huge problem.
The browser supports HTML5 and flash, in fact browsing is not bad at all on this phone.
Verdict
This phone would've been a good phone with a good camera. Instead it's a phone without a weak processor with a good camera.
This phone will not challenge the big boys, I say only get it if it's cheap.