LG Optimus Prime er... I mean One to get Froyo along with LG Optimus Chic and Android Tablet PCs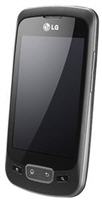 LG have been quite late to the smartphone party and have found a quiet place among the attention seeking iPhone and HTC.
SO, what have they come up with? Well, it's none other than the LG Optimus Prime… I mean One, the LG Optimus One.
LG say Optimus means best in Latin, but in the real world it means a red and blue truck robot (in disguise) of awesomeness that transforms into an Autobot god, built to fight the evil Decepticons.
I'm going off-track, excuse the crap pun, LG's latest phone looks to pack a punch carrying Froyo as it's OS.
But that's not the only thing LG are offering, they have also announced the release of a lower end smartphone the Optimus Chic (below center), a super phone LG Optimus Z (aka CYON, below left) and Android Tablet PCs.
This is all exciting stuff, I had the LG Viewty when it first came out and I didn't think it was too bad for a touchscreen phone. Since then it seems LG have been powering up to this launch as their releases in between have been largely forgettable.
The one thing that I expect from an LG, and has been the case for some time, is great UI for both tablets and phones. Watch this space.