Intel begins the era of the ultrabook and Windows 8 touch devices
Intel's Shmuel "Mooly" Eden came out on stage today at CES 2012 dancing to some classic 'tunes' (eg Chubby Checker) looking like your embaressing uncle at a party.
Mooly opened by telling the audience that "they want the notebook to be nice. They want the notebook to be small, sleek, sexy", he goes on to say that what consumers and business users really want is an ultrabook.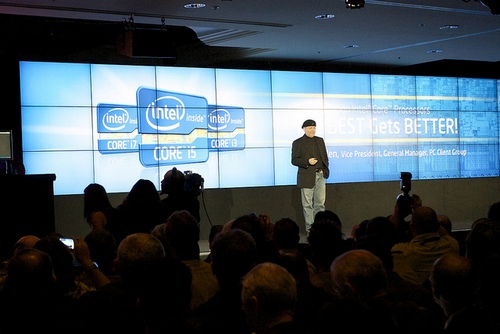 A laptop that is both powerful and thin, making it light. At affordable prices, most companies would want to equip their workforce with such devices as it makes remote working easier and also helps by not causing backpain when being transported in a rucksack.
Mooly goes on to say that "Intel is working to make every component slimmer to make ultrabooks thin".
Intel Capital is to invest $330 million in ultrabook production from Intel's OEM partners. Such staggering figures shows that the success of the Macbook Air has not gone unnoticed but Intel are looking to take the ultrabook much further in terms of technological advancements.
The Ultrabooks that Mooly has on stage have built in NFC readers to make transactions and the exchange of information quicker and easier. There are reservations about the security of such functionality, especially for the business sector, Mooly reassures the audience by saying that this technology will be "100% secure".
The example he shows is that he places a credit card with an NFC chip on the trackpad and the ultrabook scans it instantly.
Using NFC, tapping the ultabook the users data gets transported into the form for address and credit card information.
The ultrabook also has a touch-screen (front and back) and runs on Windows 8. Th eultrabook looks like any other laptop when open but has a transparent touchscreen on the back. When you close it, you can interact via touch, the default is the tile-based Windows 8 interface.
Mooly also says that the ultrabooks, the ones he has on stage are by Acer, Toshiba, Asus and LG, will be priced "competitively" which is probably a reference to the Macbook Air's high starting price but there is no indication of what this price-point will be.