I think BlackBerry might have got it right - BB Z10 is The Daddy
I work for Computer Weekly, but believe me that doesn't mean I am very good with technology. Writing a blog post about a new piece of technology is not my usual forte, I prefer the
controversy that IT outsourcing causes.
So here I am, out of my comfort zone writing about smartphones…
About four years ago I upgraded my basic Nokia handset for a real life smartphone – an Apple iPhone 3G to be precise. It changed my life; email and web browsing on the move – what could be better? But being terrified of change and a tight fisted 'so-and-so' I still had the same phone until last week.
Image via CrunchBase
I knew I had to change and not being a member of the Apple's dogmatic fan club, and I thought I would go for something cheaper. A Samsung Galaxy type device was favourite but I was always put off by the frailty of many devices. The Apple 3G was a solid lump of metal that would seemingly last forever. But the Samsung Galaxy felt that it would break the first time I dropped it (at least once every two months).
I was close to moving to a Samsung one Friday afternoon, while on Tottenham Court Road, but I thought I would give it another week after eyeing up my colleague's new BlackBerry Z10.
I had always seen BlackBerry as the phone that a salesperson would carry around so never really thought about it. I didn't used to like the look of the devices. But when my far more mobile-savvy colleague teased me with her Z10 I knew it was the phone for me – a solid yet tablet-like device.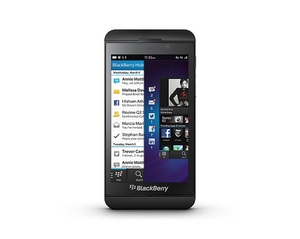 So I went for it. As much as O2 tried through its crappy customer service (setting up a new account rather than transferring the existing one) to convince me to call the whole thing off, I stuck with it.
I have to say after two days using it, the BB Z10 is The Daddy. I can't compare it to anything really if I am honest because my Apple was pretty old and congested.
My colleagues have watched me with amazement as I discover all these clever ways to make my life easier. The BlackBerry Z10 is worth it just for the finger flickingly good Swipe To Type feature on the keyboard. It recommends words and learns from experience and you just flick your finger above the letter you are already typing and you are there. I can write articles on it and sending a text is no longer a pain.
Then you have the touch screen, which you learn through osmosis. If you ask me how I get to email I couldn't tell you but if you give me the phone my fingers know what to do.
My phone had become a phone and never lived up to the business tool I hoped for. But I am beginning, after only two days, to see what all the fuss is about.
In the past my 3 and 6 year olds would pester me for my iPhone. One for angry birds and the other for writing stories. But now that I offer them the iPhone to play with whenever they wish, they are not interested. Because the Z10 is sitting in the corner unaccompanied.
Anyway there is a point to this blog other than I really like my new phone. When I got the Apple iPhone 3G there wasn't really much choice unless I wanted the newer model. But now there are loads. Apple has pioneered the market and educated users, who can now select from an ever increasing range of smartphones.
Verdict: Blackberry Z10 is a great piece of hardware and meets my work needs. However, it needs more apps to truly make it as an iPhone killer – I am lost without my Barclays mobile banking app.