If you're getting cold feet over your latest deal, here's something to comfort you. Furry slippers but not just any furry slippers; USB-powered furry slippers.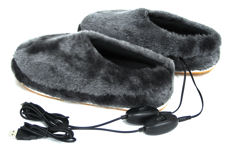 The tech-crazy people at Thanko, "China product and sales getters", are proud to present slippers with a thin aluminium plate zipped inside that connects to two USB ports. This, the company says, allows full freedom to cross your legs while your toes get toasty. All for only $29.50 (£20) per pair.
Tethered like a goat, nevertheless a warm-hoofed one, may not be your idea of fun but worry not Thanko has a rechargeable, battery-operated version for $42 (£29). These have LEDs that glow blue until the charge level falls below 50% and the lights go out at below 5%. Truly, sales getters with a foot in every camp.
Don't you just love technology?