Hands-on with the BlackBerry Q10
David McClelland (@DavidMcClelland, www.davidmcclelland.co.uk) spends a weekend with the BlackBerry Q10, the brand new handset pivotal to the Canadian giant's future. But will the QWERTY-packing phone be enough to complete RIM's big reboot?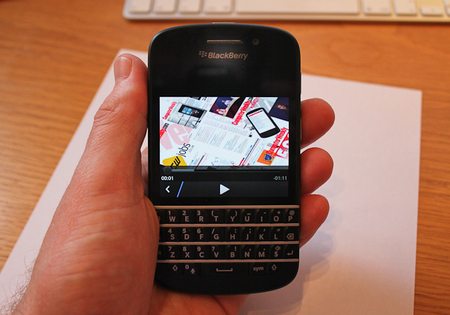 Forget the fanfare and flamboyance of the BB10 operating system unveiling and Z10 handset launch back in January: the Q10 is the device that will define BlackBerry's year and perhaps its future.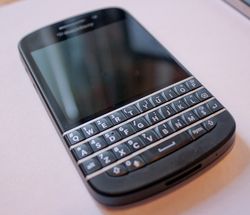 BlackBerry President and CEO Thorsten Heins will be hoping that by bolstering his new handset with a physical keyboard — eschewed by the iPhone-esque Z10 and generally something of a novelty among smartphones nowadays — he can quell the big BlackBerry exodus and tempt back the hoards of disillusioned corporate users so pivotal to RIM's successful reinvention.
Yet, for all of the rhetoric around the future of the company, there's an inescapable irony that BlackBerry's future-facing handset looks — from the outside at least — rather similar to the RIM's devices of old.
Generally available from today following an exclusive deal with Selfridges over the weekend, you might easily be forgiven for not giving the Q10 a second look when you first see it nestled in a fellow-commuters' grip, such is its air of familiarity.
However, a second glance rewards you with the realisation that the BlackBerry Q10 is a refined, understated and handsome handset which discretely hides far more power and many more features than any of RIM's previous corporate workhorses.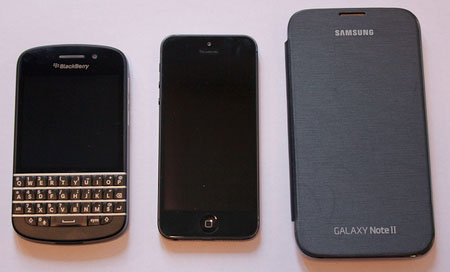 The Q10's carbon fibre-like glass weave rear is grippy and sits securely in the hand. The back unfussily slides off to reveal an NFC sensor, a large 2100 mAh removable battery, micro SIM and easy-access microSD slots. Unlike on today's phablet devices one-handed typing and navigation so crucial for commuters is a cinch on the Q10. A stainless steel outer frame completes the casing and, reassuringly, the feel is that of a solid, workman-like handset.
Also under its hood is 16 GB of onboard storage and 2 GB of RAM to support the 1.5 GHz dual core Qualcomm Snapdragon S4+ processor, along with 4G/LTE connectivity. With such brute force behind it the BB10 OS feels nippy and lag-free even when switching between apps and browsing image-rich emails and websites.
The Super AMOLED touchscreen display is bright, responsive and punchy, but there are compromises when sharing a handset's valuable real estate with a 35 button keyboard.
While its 330ppi display is technically more retina than any of Apple's and delivers screenfuls of crisp and clear text, the 3.1 inch screen may feel achingly small to anybody now more accustomed to full-sized smartphone touch screens such as the Z10. I found watching video through the Q10's YouTube or BBC iPlayer app quickly became irksome as footage failed to fill the 720×720 square screen, rendering instead in a squintsome 2.5 inch letterbox window.
On the plus side for the Q10 the keyboard which forces this screen estate compromise is nothing short of stunning. If the Q10 is to live or die by its keyboard then its designers have certainly given it a fighting chance by fitting one of the best I've used on a BlackBerry, or indeed any smartphone.
The Q10's keys are firm, rattle-free and well-spaced thanks to the four frets which provide one of the handset's defining design features. Seasoned BlackBerry users who may have strayed onto handsets sporting touchscreen keyboards may initially miss the trackball/nipple control of previous BlackBerrys but will be reassured to learn that it takes no time at all to get back into the BB speed-typing groove.
As you'd expect from its heritage, email is simple to set up and incredibly easy to use on the Q10. Also rather admirable are its organisational and productivity features and apps: the Evernote-aping Remember app looks useful for reminders and note taking; apps including LinkedIn and Dropbox come pre-installed, and the omnipresent BlackBerry Hub pulls into one place all of your email, calendar and social news feeds and is never more than a peek gesture away from whatever else you're doing on the phone.
In comparison to the daily charges demanded by my iOS and Android devices I found the BlackBerry's battery life to be impressive, with plenty of juice remaining after a day's reasonable use, although perhaps still not enough for two days on the go.
Rounding off the Q10's feature list is a capable 8MP camera on the rear and a 2MP front-facing camera both of which benefit from BlackBerry's handy Time Shift feature which lets you choose from a burst of images, promising practically perfect smiles.
***
The BlackBerry Z10 release in January was a showcase for the long-awaited BB10 OS, using its full-sized touchscreen to show off its brand new user interface and multimedia capabilities.
By cramming a cracking keyboard into the Q10 and harnessing BB10's Balance software, BlackBerry will hope its newest handset can combine multimedia mogul and corporate workhorse into a single slab. However, the effective screen size when viewing video is unavoidably small in comparison to other current smartphone displays which may be a turn off for some.
Nevertheless, if your morning commute is less about catching up on last night's TV and more about firing off fifty emails per minute and organising yourself to within an inch of your life then the Q10's keyboard/screen size compromise will be one well worth making.
***
BlackBerry Q10, £579.99 RRP, available from free on contract.