Hands on: the Sony Vaio Duo 11 and the Tap 20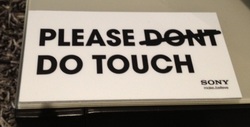 Last night, Sony showcased several of its new products built specifically to run Microsoft's new operating system, Windows 8, to be
released later this month
.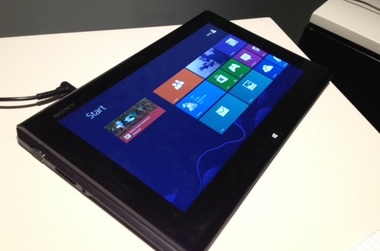 Typing was a little difficult as the backlit keyboard is so compact, but I'm sure it wouldn't take long to get used to it like with any other tablet.
The pointing stick additional mouse was not particularly easy to use, the movements were stiff and on the traditional Windows viewing it was difficult to use for the smaller button functions. However being a touch screen it seemed a little redundant anyway
The full HD screen was very responsive and the screen easily flipped into tablet and ultrabook mode. However, its mere five hour battery life could be a problem, so Sony offers an additional sheet battery, which clips to the underside of the device.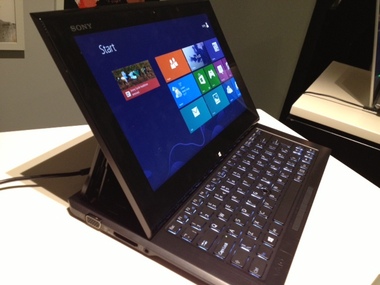 Looks wise, it was very streamlined, but quite oblong. When I picked it up I was surprised at how light it was as it looks and feels quite bulky due to it being considerably longer than other tablets I have handled. And although light, I still had a worry that the smooth screen might slip through my hands and I might drop it.
This is the "portable" desktop, cleverly the all-in-one has a three hour battery life so you can disconnect the power source and take it through to a meeting with you.
It's very big at 20 inches, and hefty at over 5kg (so try not to drop it!). It's not the type of device you can easily slip into your bag, but use it as a desktop and occasionally take it into a meeting to show off a presentation to a small-ish audience. The device has the elegance of a Mac and its screen is beautiful. Additionally the stand allows you to have the device upright like a traditional desktop, flushed onto the desk or any angle in between.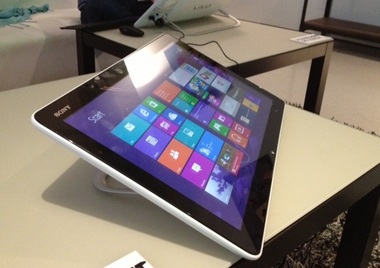 Where with the Duo, I can imagine the touch screen being used more than the trackpad, with this device, I think it would take a far bit of conditioning to get used to the massive screen in front of you having touch screen capabilities. Just now, I pretended to touch my current screen as an experiment, but hurt my bicep after a few waves (probably saying something about my fitness than anything else). But I feel to use comfortably with your elbows on the table, you would have to have the screen much closer than normal, which may lead to "square eye" problems. It will be interesting to see how these devices are used in the near future.
Otherwise, I think this device is superb and I want to add it to my Christmas list. But I'm pretty sure I'll be sadly, but hastily crossing it off once pricings are revealed.
Both products are due to hit the shelves as Windows 8 is released on the 26th October.