Hands on: Sony Xperia Z tablet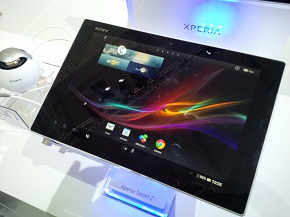 Sony parted ways with its mobile partner Ericsson just before Mobile World Congress in 2012. Now 2013 has come around, it has decided to try and prove its metal with the launch of the Sony Xperia Z tablet.
The tablet falls into the 10 inch subset, competing with the likes of the iPad or Samsung Galaxy Tab, rather than the Google Nexus 7 or Kindle Fire. It comes with Android 4.1 – Jelly Bean – but will be updated to Android 4.2 after launch.
It is billed as the slimmest tablet on the market in its category and there is no denying that the 6.9mm thickness is incredibly slender. At 495g it is also extremely light compared to its rivals.
Although these physical attributes are appealing for working on the move or using for long periods of time, and Sony claims it is both dust and water resistant, the tablet felt too flimsy and whilst using it there was an underlying feeling that it could snap in half at any moment if we weren't careful. Portable devices need to be a little more robust than that is they are to go on the road with the business traveller.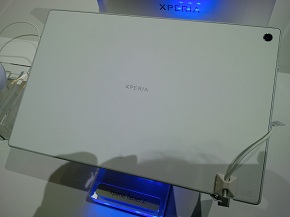 The look of the Sony Xperia Z tablet is cheaper than its rivals too. The full white back plate seems to mimic the iconic Samsung design but mixed with a black front, it comes across as a Frankenstein device. Entirely black ones are available but there is no getting away from the fact it is a stretched version of Sony's Xperia Z smartphone and the dimensions don't feel quite right.
For example, there seems to be a lot of wasted screen space with an incredibly wide bezel at either side, giving it an odd shape and leaving us feeling cheated.
However, the screen available to us was responsive and beautiful. The WUXGA display with Sony's Mobile BRAVIA Engine 2 behind it felt sharp and pleasing to the eye. The internal hardware was impressive too, with a significant quad core Snapdragon S4 processor and 2GB of RAM.
The 8MP rear facing camera was the standard you would expect from this type of tablet but the 2MP HD forward facing camera gave it a boost for video conferencing and calls.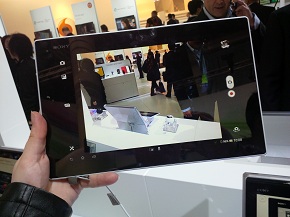 The price point is where it could appeal. A Wi-Fi only version is expected to sell for £399 in the UK whilst a 4G version will go for £499, making the tablet very competitive.
If you are looking to work on the move and enjoy downtime with multimedia technology, you could do much worse than the Sony Xperia Z tablet, but get used to handling it with kid gloves whilst you get used to the skinny device.