HTC Schubert Windows Phone 7 flagship (should've called it the sherbet, Google would've)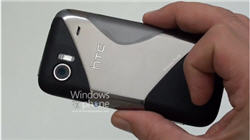 Sometimes I think these phone companies purposefully try to get news of their phones leaked. But then I remember that they're responsible corporations that wouldn't do anything underhanded.
So, surprise surprise, there has been a leak and intriguingly enough it's a HTC sporting Windows Phone 7.
It has been giving the incredibly catchy name of the HTC Schubert and sports a sexy aluminium unibody and will be released as a flagship Windows Phone 7 device.
There aren't any specs yet but this is looking like the real deal.
Check out the video below