HTC HD7 - The best Windows Phone 7 phone but not the best on offer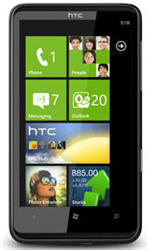 The HTC HD7 was the most anticipated Windows Phone 7 (WP7) phone and wowed many with the 4.3-inch screen and kickstand.
The WP7 operating system (OS) itself doesn't differ between each phone which kind of means that most of this review will appear to be a review of WP7 with the addition of a bigger screen.
But does it take the title of being the best WP7 phone or even being the phone that can take on Android's HTC Desire HD and win?
Screen / Display
Big screens will start to become the norm as the gap between smartphone and tablet starts to blur a little.
We've already seen the HTC Desire HD, Dell Streak, Motorola Droid X and the HTC HD2 which this phone has evolved from.
I'm a big fan of phones with large displays and at 4.3 inches this has one of the biggest displays around.
Browsing the web is so much easier with a bigger display and your multimedia benefits massively too.
The HD7, as you would expect, can record and play in 720 HD as 24 frames per second. Videos are a genuine joy to watch especially with the Dolby Mobile audio enhancement sound and kickstand.
The kickstand is a welcome addition, solid and neatly packed into the phone it excels where other kickstands have failed.
The only problem is that other than watching videos, browsing pictures and the web you will never need to use it as WP7 doesn't rotate to landscape. Quite annoying especially when you have such a huge screen.
From what I can see, the screen is pretty much the same as the HTC Desire HD if not more colourful but that might just be because of WP7 being such a bright and vibrant OS.
It's not the best WP7 display, the Samsung Omnia 7 takes that title with it's beautiful AMOLED display making the rich colours of WP7 look fantastic.
Software
Windows Phone 7 is the same across all their phones. What it offers is a clean user interface that is connected and updated live.
While this sounds fantastic I found that initially I loved the easy, modern style but felt that this wore off very quickly and left me quite bored.
The tile interface is nice to look at but there's only so many times you will change the colour.
The real uses of WP7 will begin to show next year as apps start to appear and Microsoft continues to develop the operating system.
Using Microsoft products such as Hotmail and Xbox Live etc. will mean that your accounts will synch with the phone and update automatically which is great.
Similar to Android, Windows Phone 7 has features with 'Hubs'. Hubs combine content on the phone with online content, so if you have pictures on Facebook then your photo album will show pictures from both.
Same goes for contacts, music and video (using the Zune store), Games (which integrates with Xbox LIVE), Windows Phone Marketplace, and Microsoft Office.
The Office hub is a massive plus point for me. It's the best mobile experience of using Word, Excel and Powerpoint and in fact, dare I say it, feels like a very good basic version of the full PC product as oppose to a mobile version.
You sort of expect this but Microsoft really did a great job.
Chips and bit
The HD7 comes with a 1GHz Qualcomm Snapdragon chipset which is pretty much the standard at the moment and all the usual features that you would need to get the phone connected in every way possible: Bluetooth, WiFi, HSDPA and GPS.
Memory-wise, it comes with a generous 16GB of internal memory but that isn't expandable sadly.
Camera
The phone packs a decent 5 megapixel with auto focus which will let you take some decent pics but it's definitely not the best camera around even though the dual LED flash is good enough to illuminate dark places but it won't set the world alight.
It does come with some good scenes including candlelight, landscape, and portrait match the environment of your subject as well as some cool effects like Sepia, Negative and Solarize.
Battery
Sadly, HTC has let this phone down in the same way as the HTC Desire HD in that they both have a 1250mAh battery which isn't enough to carry the 4.3 inch screen for longer than 8 hours moderate use.
This is particularly disappointing due to the fact that the HTC Evo comes with a 1500mAh battery which can go for the same amount of time but with heavy usage.
Verdict
This is a great phone but comes up short in a few departments, most notably the camera and battery.
Windows Phone 7 will take some time to really show us what it's capable of. It's not terrible at the moment but it's nothing new especially as the app store looks quite empty.
If you choose WP7, then I would recommend the HD7 as I am a fan of smartphones with large screens but if you want a smartphone that has everything out the box (apps etc.) then I would have to say that WP7 still has some way to go.
| | |
| --- | --- |
| Good | Bad |
| Giant 4.3-inch display | Small battery for its size |
| Responsive screen | Not a great camera |
| Great display | No apps |