HTC Desire HD video review: This phone is big and amazing!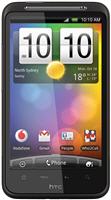 The HTC Desire HD is a 4.3 inch beauty packed with Froyo 2.2 and HD.
When I heard that HTC was releasing two upgrades to the Desire I thought 'why?' What's the point of naming a new phone after the old one? Why not give it a new name and start new?
Having received the phone I can tell you, it doesn't matter. This is a monster of a phone that is up there with the best this year.
Chips and bits
This beast packs a 1GHz QSD8255 chip (with Adreno 205 graphics) and is supported by 768MB of RAM, which is as fast as you can get right now.
brightcove.createExperiences();
I loaded around eight apps and the phone didn't even slow down, web browsing was incredibly fast especially compared to some other smartphones on the market.
The only downside to having such a quick processor is that it's held up by a 1230mAh battery which, for such a powerful phone, isn't great. You'll get a decent days use but if you're a heavy user, like me, then it'll fall short.
I got around 7-8 hours out of it having played a couple of games and browsed the web a bit which isn't the end of the world but what's annoying is the fact that the US version, the HTC Evo 4G, has a 1500mAh unit.
Design
The HTC Desire HD has a great design with a full aluminium body. It just feels solid in your hand and has a good weight to it.
It's just 11.8mm thick, making it slightly deeper than the iPhone 4 which has a depth of 9.3mm.
The buttons at the bottom are touch-sensitive and are very responsive.
Size-wise, at first I thought it was too big but quickly got used to it and then loved the big screen especially for videos and browsing. A definite plus.
Display
The SLCD touch has a resolution of 480×800 which is the same as the original Desire but of course being on a 4.3 inch screen makes the display a different experience.
Camera
It has an 8MP camera with auto focus and 2x LED flashlight with an all new face recognition feature. Taking pics was fine, it's better than most phones and the screen really does the pictures justice.
The flash is good but obviously in very low light conditions struggles. Generally most phones struggle with this so again not a big problem.
Software
It will launch with Android 2.2 Froyo to provide the most up to date applications and speeds available.
New Sense
There are two great things about HTC Sense on the Desire HD one is the fast boot time of around 20 seconds.
They've also revamped the way the ringer works. It rings louder if it senses it's in a pocket or a bag and can turn the sound off if you flip it over onto it's face!!
Simple but very clever.
Conclusion
This is an amazing, fantastic phone. I enjoyed using it so much.
It's quick, smart and has a giant screen for you to multi-touch the sh*t out of.
This is simply the best Android phone out there and really does compare to the iPhone 4, in fact it's probably even better.