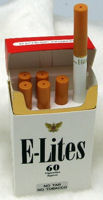 You know the type. They hack into work in the morning, hack all day long after disappearing for ten minutes every hour or so and sound as if they are due for a coffin fit later in the day.The hardcore smoker is often noticeable by their absence but help is here.
UK company E-Lites has developed an electronic cigarette (or a cigar) for the smokeless digital age and claims that the electronic cigarettes taste like real ones, contain no tobacco, no tar and do not burn. But they do contain nicotine and are only recommended for smokers who can't live without their nicotine fix every day. The main differences are that the cigarettes are plastic and the end glows with a green light to differentiate it from a real cigarette.
Smoking breaks cost companies substantial amounts each year, around 10 days per year of lost productivity. Electronic cigarettes means that the smoker can stay at their desk and, according to E-lite, save themselves money at the same time.