Fujitsu launches Eco Track to aid EU companies in complying with new energy law
Fujitsu has revealed a service to monitor a energy usage for businesses, which will be available to coincide with the upcoming Energy Efficiency Directive law.
The service, Eco Track, is a cloud-based software as a service (SAAS) offering which will monitor energy usage patterns within businesses.
The Energy Efficiency Directive law
was passed by the European Union, following a vote in favour from the European Parliament in September 2012. The law will enforce all countries in the European Union to monitor its energy consumption and report back results. Companies with over 250 employees or EUR 50 million in annual turnover will be auditable, and Fujitsu believe its product will help with this new task.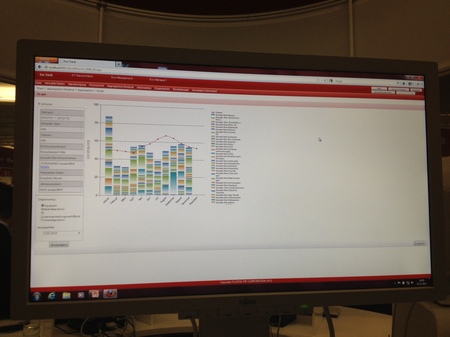 The company announced the Eco Track at the Fujitsu Forum 2012 in Munich today, the service will run on the Fujitsu Global Cloud and available on the Fujitsu Cloud Store.
During the opening keynote speech, Joseph Reger, CTO of Fujitsu, said that Eco Track will speed up the mandatory gathering of data. "It will reduce tax burdens, and energy bills, and it will be very cost effective at a few thousand Euros for the service," he said.
A Fujitsu representative told me that the service would be available in various editions, depending on how large the company is. It will cost around EUR 2,500 for the regular edition, however that is to be confirmed next year. The company are also looking into a payment-per-usage price plan similar to cloud models, which may be more appropriate.
"I would not be surprised if companies found a positive return from this investment in the first year," said Reger.
The Japanese are much more advanced in this area and have been monitoring energy in a similar way for 10 years, said Reger. Fujitsu has taken the Japanese model and made it applicable to Europe.
However, the company will not be managing energy usage for businesses as part of the service. It will be the customer's responsibility to comply with the results, which is likely to happen when individuals see how much power they are using.
While Fujitsu are not currently looking into managing energy on behalf of its customers, it could see the service morphing in such a way in the future, however the company is still in "very early stages."
Eco Track will be available firstly to England and Germany in March 2013 and then soon to the rest of the European Union members.