Four tablets to cure designer headaches
Today, Wacom is releasing four digital graphics tablets in the Intuos range designed to improve image creation and manipulation. For designers, a key element is the new pen that detects 2048 increments in the pressure applied to the tablet's surface. just a gram of pressure will create a line that gets thicker as the pressure increases, depending on software settings.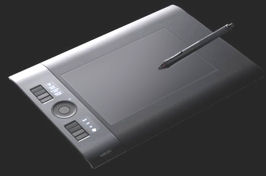 The surface includes Organic Light Emitting Diode (OLED) panels that list what action each of the eight programmable keys are set to perform. This is a useful addition because their function changes and keeping track in the past has relied on making notes to accompany each application.
The tablets may look biased towards right-handers but, by turning the unit through 180°, the keys can be made accessible to the free hand of a left-handed operator. Change a screen setting and the text display is flipped.
The Wacom Intuos4 is available in four sizes (S, M, L, XL) but the small size lacks the OLED screens. UK prices start at £199.99 for the small size, medium £329.99, large £429.99 and £699.99 for the XL (inclusive of VAT).