Five updates in iOS 6 for business users

At around six o'clock UK time last night, the newest version of Apple's operating system, iOS 6 was available to download. With 200 new features, including some major overhauling of the OS and many more subtle changes only an avid Apple user would notice.
It took around an hour to download the hefty piece of software, although this was at 'peak' time when thousands of Apple users were trying to download it at the same time, I expect this time to reduce significantly over the next week. However, you can always pick up the iPhone 5 next week and have iOS6 preloaded on the device.
If you're a business user thinking of updating your Apple device here are the five updates you should know about.
1. Maps
There was some worry when Apple kicked Google maps to the curb and decided to invent its own navigation system. While it is missing public transport routes, unlike its rival the
Nokia Lumia 920
, Apple's offering of turn-by-turn offering works very well when walking or driving.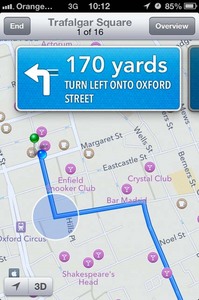 A partnership with Yelp allows you to look for nearby points of interest, you can tap on a nearby restaurant for more info and with one another tap you can call the establishment – very useful if you are in an unfamiliar area.
Maps also has a very innovative feature – Fly-over, which looks great, but isn't really useful and also not widely available in the UK.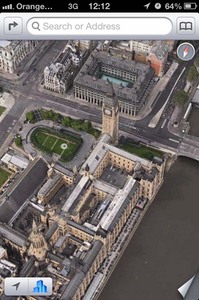 (Turn-by-turn and Fly-over supported by iPhone 4S, iPhone 5, iPad2 and the new iPad)
CB Edit 21/09/12: Following the initial testing of the new Maps app, I found on further use that while the turn-by-turn navigation worked very well, the app is definitely not as speedy and responsive as its predecessor.
Additionally A- and B- roads are not distinguished clearly and I found a few stations missing from where they were supposed to be. While I haven't found it as buggy (yet!) as many others have reported, it is fair to point out that other users have found cities in the wrong area, or completely non-existent as well as incorrect place-names.
I expect Apple to correct these major blips very quickly, or else expect a trail of fury from users across the globe.
2. Siri
Siri has been updated greatly with thanks to Yelp to include information about local businesses, films and restaurants.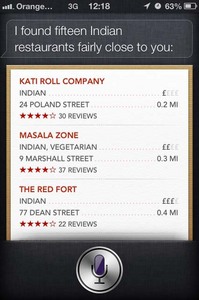 Siri is also now fully integrated with maps. Ask Siri to 'take you home' and providing you have your address stored in your device, Siri will find the route for you.
(Supported by iPhone 4S, iPhone 5 and the new ipad)
3. Offline reading
This feature is particularly handy if you have webpages to read but can't guarantee a network connection. For instance if you're commuting on the tube, save a webpage to your reading list before you descend underground and read your saved pages offline.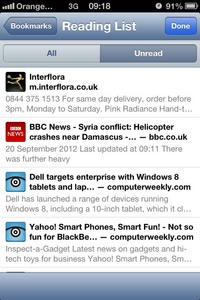 (Supported by iPhone 4, iPhone 4S, iPhone 5 and the iPads)
4. Do not disturb
When sitting in meetings, you don't want to necessarily turn you phone off, while silencing your device, including the vibrate mode, can take a little bit of playing around in settings. And what if you then miss that important call from your CEO? Or your partner calls with some emergency? When enabled, Apple's Do Not Disturb setting allows you to choose who you receive calls and notifications from, such as contacts designated as 'favourites'. If you choose to receive calls from no one, you can then choose to accept 'repeated calls' meaning that if someone calls you twice within three minutes that call will come through to your phone.
Heck, important meeting or not… this feature comes in handy if you want a good night's sleep and don't wish to be disturbed by the buzz of a marketing email at 2am. You can even schedule Do Not Disturb to activate at a certain time, six o'clock cocktails or in bed by 10pm – use this feature to get some sense of normality back into you work/home life.
(Supported by all)
5. Passbook
Passbook is a new preloaded app from Apple which collects tickets, coupons and loyalty cards all in one place. While it isn't NFC-enabled and doesn't act like the
Google Wallet,
it is one step closer to integrating the mobile device within the retail space.
If you are a business traveller, having boarding passes in one place would be most useful. The app is also location aware which in theory means that boarding passes would appear in the notification bar when you near the boarding gate, or loyalty cards would pop up on your screen when you enter a shop.
Being in the UK, it seems as though the only app compatible with Passbook so far is the airline, Lufthansa, however reports of the first Passbook apps in the US include Fandango Movie – Times & Tickets, Live Nation, TicketMaster, MLB.com At Bat, Sephora to Go and Walgreens. It shouldn't take long for companies to jump on the band-wagon, Starbucks, which appeared in Apple's advert for Passbook, will surely be added soon enough and what about British Airways and Tesco who already have well received apps? It won't be long before many other brands large and small could create similar apps thanks to third-party developers.
(Supported by all)
*With thanks to Vodafone for providing the new iPad to test iOS6*