Elo Touch solutions - why luxury lends itself to interactive technology
Manufacturers of touch-screen technology explain why the luxury market is buying into interactive in-store equipment.
Elo Touch solutions is a touch-screen manufacturer that often finds itself bought into the retail space to give customers that interactive omni-channel experience they expect.
But the firm has seen a recent surge in interest from luxury retailers as they jump on board the technology bandwagon.
This left me raising the question – why not go down the route of a smartphone assisted experience that many other retailers have chosen?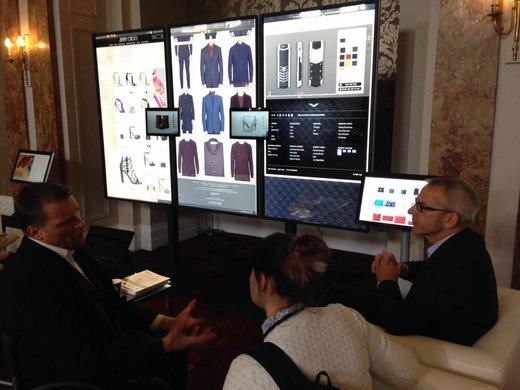 According to Chris White, regional sales manager at Elo Touch solutions, luxury retailers are using larger in-store touch screens to get customers interacting rather than looking at their phones.
The larger format also makes it easier for shop assistants to provide a well-informed service that customers expect from a luxury brand without the restrictions of a smaller format such as a hand-held tablet.
This allows shop assistants a better way to visually present information customers want, and gives the opportunity to sell other matching products.
"I think the luxury market lends itself more to the upselling and cross selling of items more than the mass market." White says.
Servaas Kamerling, Elo's president of EMEA, highlights this need for cross-selling or upselling for luxury brands is often leading to technologies such as this being introduced as a marketing decision rather than an IT decision.
But Kamerling points out that often when stores encourage customers to download loyalty applications they can't be used outside of the store experience but still clog up a user's phone.
This isn't the kind of experience people expect from a luxury brand, and high end retailers often struggle to drive app downloads as they are only visited by customers in a one-off or occasional instance, so retailers often look for other ways to "create the endless aisle" experience.
"If you go shopping, you don't want 50 apps on your phone because you're not interested in their products when you're at home – but you are interested when you're in the store," Kamerling explains.
"We think it's more effective to actually show the potential in the store in addition to having it on your phone or if you're browsing to create that true omni-channel experience."
But touchscreens are not just part of the luxury retail world, and Kamerling points out interactive technology can "combine the best of both worlds" in an omni-channel retail space where customers want so many different things.
"Interactivity and touch screens are in every market," Kamerling jokes.
"It's so diverse a market which makes it sometimes very difficult to focus because we're everywhere."