Download Hottest Girls iPhone app - iPorn has only just begun
It was only a matter of time before there came pornographic apps for the iPhone. The 'Hottest Girls' app is the first iPhone app approved by Apple to feature nude photos of girls. It is rated 17+ for frequent intense sexual content or nudity, and frequent intense mature suggestive themes.
The porn industry has been dictating the format of media for decades since the war between VHS and Betamax and even as recent as Blu-Ray vs HD-DVD.
Let's not kid ourselves, even though we don't talk about it and it's a bit of a taboo, pornographic apps are going to be the future and will probably be amongst the most dowloaded.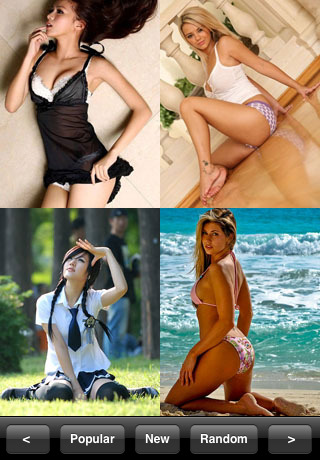 The only reason it has taken so long for this milesone to have been achieved is because Apple needed a parental control update that they rolled out in the 3.0 OS.
The first app 'Hottest Girls' is not really hardcore and isn't the greatest app but, it's the first of many.
The porn industry has always been creative as there is so much competition and a lot of investment (because of such a big return) so expect some great ideas in the coming months as they play catch up and are likely to overtake other apps in the development and innovation stakes.