DataLocker DL4 FE: military-grade USB drive with 'nuclear' device payload security 
The Computer Weekly Inspect-a-Gadget elves have gotten past their initial 'oh, look, it's a terabyte drive' excitement factor. We've seen a whole raft of these units come through the testing lab and most work okay, some boast bigger capacity than others and some have zippier transfer speeds than expected.
Although size matters, we've yet to find a 'normal' user that needs more than the 4-terabyte monster we looked at last year from OWC – and, although transfer speeds are important, most of us performing a backup function are happy to wait for 5-minutes as and when needed.
Then there's the on-board keyboard for PIN entry factor. Again, we've seen a few of these and DataShur's thumb drives are among the handiest pocket-sized devices in this sector.
But can you have all those functions (capacity, PIN entry, data transfer speed) and still look for more? Surely the most important aspect of any disk is security and usability.
DataLocker's DL4 FE: military-grade secure portable USB drive aims to tick both of those boxes, so let's look at security first.
DL4 FE: security factors
DataLocker says that the the DL4 FE is a true military-grade secure and portable USB drive. It's built for industries with rigid compliance standards like government, healthcare and finance.
The device storage size options go all the way up to 15.3-terabytes, but we played with the 1-terabyte version.
The DL4 FE is expected to be the first device to receive Common Criteria cPP for USB portable storage devices. This 'cPP' term denotes Collaborative Protection Profiles and you can read more on this here.
"The DL4 FE is the most secure USB mass storage we've ever offered (FIPS 140-2 Level 3 device pending validation, AES 256-bit crypto chip, CC EAL5+ pending validation) but we are expecting to receive the Common Criteria collaborative Protection Profile (cPP) for USB Portable Storage Device validation in 2021 (listed as in process in March) and we expect the DL4 FE to be the first USB device ever to achieve this new certification," said the company, in a press statement.
Nuclear device payload options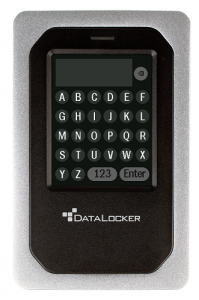 Unique to the DL4 FE are so-called nuclear options for destroying device payload, including remote device detonation, the only known device of its kind that is capable of bricking the device itself (when managed by SafeConsole).
Modern world use cases could include the following…
DL4 FE and remote work

– Devices like the DL4 FE may be now more important (in the post Covid-19 world) to help businesses balance remote productivity with security.

DL4 FE and manufacturing

– Large-capacity encrypted drives like the DL4 FE offer a secure way to update remote or air-gapped equipment.

DL4 FE and healthcare

– Devices like the DL4 FE make it easy to securely update firmware on CT scanners or other large medical devices. They also make it possible to transport electronic health records securely.
DL4 FE: usability factors
Okay so, here we go – out of the box, the DL4 FE doesn't come with any printed instructions and you don't need any, we just plugged in and went for it.
Upon first boot-up, you simply set a password using your fingers on the touch screen (you can calibrate the touch sensitivity afterwards, but it's pretty good from the get-go) and fire up the disk.
There is a DL4 FE Quickstart Guide should you feel the need and an accompanying Datasheet, plus also a User Guide an Overview Video and Feature Walkthrough the latter being a good idea if you want to potentially use the nuclear device destruct option.
All DL4 FE drives are remotely manageable with SafeConsole, giving admins the ability to remotely lock or wipe drives, reset passwords, view last-used locations and see what data has been added, removed, or changed on the drive.
The touch screen offers the chance to type in sophisticated password options and the keypad 'randomisation' process prevent surface analysis, which means that whatever password you set… the keys will appear in a different order (with the alphabet and number pad all jumbled up) each time you use it.
We foolishly tried to connect with one of our own USB-C to USB-A cables rather than the ones supplied and the device didn't provide a disk volume when attached to Windows 10. The cables are short and they pack nicely into the little snug pouch that comes with the disk, so best advice is to just use the cables in the kit.
Also here there is McAfee-powered on-board anti-malware to automatically scans files and quarantine/destroy bad apps/files based on policy settings (optional upgrade, requires SafeConsole).
You can lock the device and close up once you're finished working and you don't need to use Windows or Mac OS X to eject your volume, it simply logs out. The device also works on Linux machines, although it was not tested as part of this review.
Just one other really nice piece of functionality, you can connect USB-A (on your PC) to USB-C on the DL4 FE, or you can connect USB-A (on your smartphone) to USB-C on the DL4 FE. We tested this with an Android smartphone and used 'Files' to open up all our Windows documents effortlessly, so this is a really nice way of carrying all your data with you in an ultra-secure format.
TRANSFER SPEEDS
USB-C 3.2: 150 MB/s read, 100 MB/s write
USB 2.0: 40 Mb/s Read, 20 MB/s Write
DEVICE LANGUAGES: English, French, German, Spanish.
We like the DL4 FE and we're going to call it the "de-el foreffy" and make it part of the family.