CES 2013: The smartest home in the neighbourhood
The connected home is one of the big themes at CES in Las Vegas this year. The idea of connecting all your devices to the internet and seamlessly to each other has popped up a few times at the pre-CES press events already.
Expect to soon see many uneventful pieces of technology suddenly being connected to the internet, like a fridge.
And Samsung have done just that. The T9000 LCD Refrigerator was unveiled at the company's press conference this afternoon, its unique selling point was that users can to adjust the freezer and fridge space based on need. However, the fridge also features an LCD screen which is connected to the internet, so you can use apps such as Evernote to track your shopping list and connect your phone to your fridge to use it as a baby monitor.
So it seems that the fridge magnet supporting that simple scrap piece of note paper will soon be obsolete. What will the tourist boards across the world think of this travesty?
Moving on slightly from intelligent fridges, another company at CES this afternoon touched on the idea of the "smartest home in the neighbourhood", the networking equipment maker, Netgear.
"Every device in the house powered by electricity should be connected to the internet.," said CEO, Patrick Lo.
In three years, the smart home market will have increased from $1.2bn today, to $3.6bn in 2015, he said.
Other than smart TVs and games consoles, we will soon be filling our homes with cameras and sensors on door handles to detect our presence.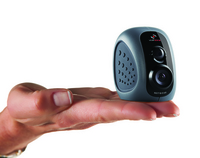 Netgear announced updates to various pieces of its technology portfolio including a nightvision version of its award winning VueZone surveillance camera. VueZone is a highly portable, wirefree camera for small businesses and home owners who can access live video feeds on their mobile devices.
However, a smart home is useless without ubiquitous connectivity. Netgear pointed out that the top "dead zones" for wireless connectivity in the house were the back garden, garage and the bedroom. While unveiling a dual-band wall plug range extender, the company also showed off a product which invoked the phrase "beam me up Scotty." Netgear took this opportunity to introduce its beamforming technology, which allows a router to detect wireless devices in the home and beam a wireless signal in its direction to ensure complete connectivity.
Keep an eye on the blog for more news about the connected home and connected devices as I swan around Sin City trying to inspect all the latest gadgets and gizmos in town.