CES 2013 HANDS ON: Panasonic Toughpad FZ-G1 and Toughpad JT-B1
This week at CES in Las Vegas, Panasonic added to its line of rugged Toughpad tablets with the Windows 8 Pro 10.1-inch FZ-G1 and the Android 7-inch JT-BI.
Since 1996 Panasonic has been producing mobile computers for the mobile workforce who need to rely on a more study product that will resist dust, water, shocks when in use in the field. The two tablets join a 10.1-inch Android tablet which was broadly available last year.
Toughpads are designed for mobile workers in sectors such as military, government, construction, healthcare, public safety, utilities, retail, and maintenance to name a few.
The devices come with optional added extras such as heighten security features, electronic scanners and card readers. The new tablets are also splash proof and feature screens that are viewable in the sunlight, as well as being robust enough to survive drops and dust.
The Windows 8 Pro FZ-G1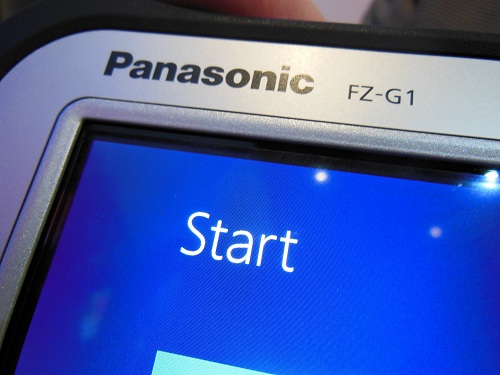 • Operating System: Windows 8 Pro
• Processor: 3rd Generation Intel Core i5-3437U vPro™ 1.9GHz up to 2.9GHz with Intel® Turbo Boost Technology
• Memory: 128-256GB SSD, 4-8GB RAM, optional micro SDXC
• Rugged: MIL-STD-810G, 4′ drop, IP65, 14° to 122°F (operational temp range)
• Display: 10.1″, sunlight viewable, touch screen and active digitizer, 800nit, WUXGA (1920×1200)
• Battery: 8.0 hours (user-replaceable)
• Dimensions: 10.6″ x 7.4″ x 0.75″
• Weight: 1.1kg
• Wireless: Bluetooth V4.0, 802.11 a/b/g/n Wi-Fi, optional embedded 4G LTE or 3G
• I/O: Full size USB 3.0, HDMI, optional micro SDXC, Full size USB 2.0, wired LAN, true serial port or dedicated GPS.
Panasonic claims it will survive a 4 foot drop and it wouldn't surprise me as this device, despite its rugged and therefore very clunky look, is surprisingly light at just over a kilogram, easy enough to carry about.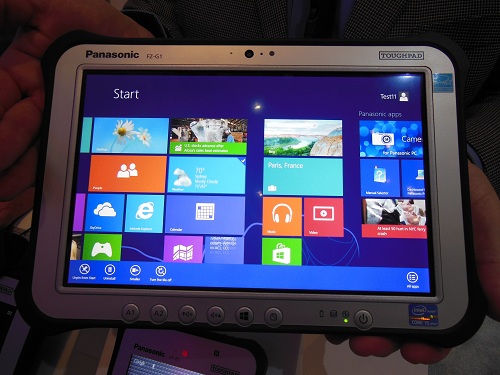 The FZ-G1 comes with a barcode scanner and the option of adding on e-card readers and other types of bespoke enterprise technology. Its battery is also replaceable if you run out of the included 8 hours.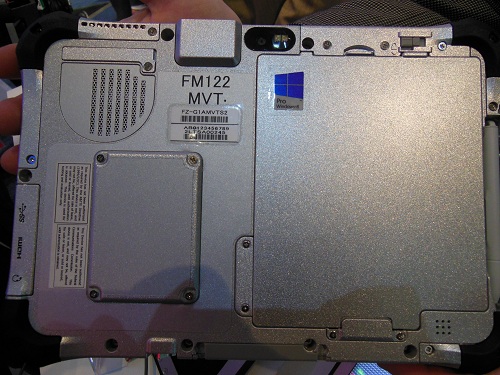 The Android 4.0 JT-B1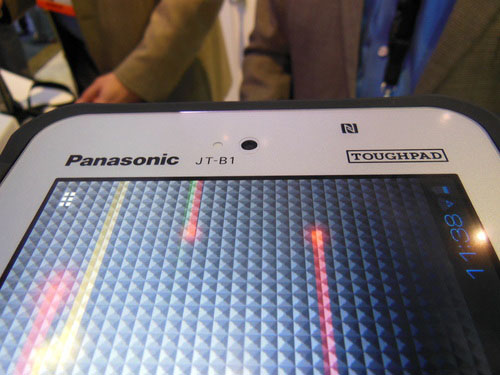 • Operating System: Android 4.0
• Processor: TI OMAP4460 1.5GHz Dual core
• Memory: 16GB ROM, 1GB RAM, micro SDHC
• Rugged: MIL-STD-810G, 5′ drop, IP65, 14° to 122°F (operational temp range)
• Display: 7″, daylight viewable, 500nit, WSVGA (1024 x 600)
• Camera: Front: 1.3Mp fixed focus, Rear: 13.0Mp auto focus w/ LED light
• Battery: 8.0 hours – Large 5,720mAh battery (user-replaceable)
• Dimensions: 8.7″x 5.1″ x 0.7″
• Weight: 0.54kg
• Wireless: Bluetooth V4.0, 802.11 a/b/g/n Wi-Fi, optional embedded 4G LTE + 3G
• I/O: Micro USB
This device is a much smaller form factor, running Android's operating system, the device itself doesn't have the capacity to run Windows 8, so it's aim at those out in the field not needing quite as much power under the hood.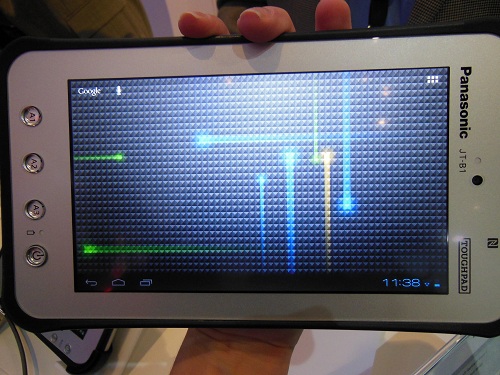 This device is easily portable at half a kilogram, pop it straight into a laptop bag without noticing. It also is available with additional extras including different types of handles to grip securely to the device.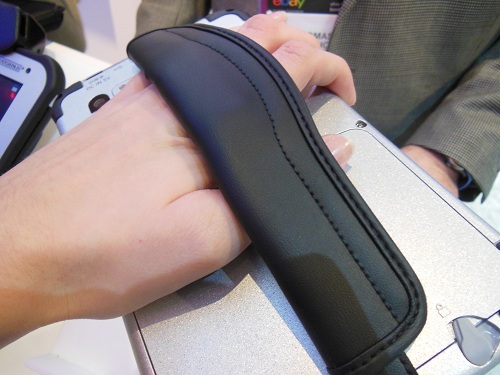 The FZ-G1 will be available from March, starting at $2,899, and the JT-B1, will ship February, starting at $1,199. At these prices they are definitely aimed at large scale operations, as smaller businesses would be unlikely to kit out the entire workforce at pushing two grand per device for Windows.
Speaking to Kyp Walls, director of product management, at CES, I asked him how he thought the Windows 8 Pro version would fair in the enterprise space which is generally not looking to adopt the new operating system straight away.
He said, "Even though it has been built for Windows 8, a fair number of our customers will buy it with a Windows 7 downgrade."
Panasonic have a Windows 7 Toughbook on the market at the moment, but the convenience of buying the new FZ-G1 is that it is around a third lighter.