An e-reader for everyone?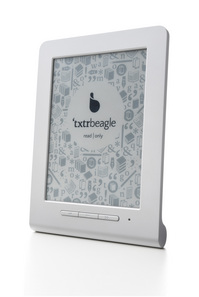 A Berlin-based company has just announced a product that could be a real game-changer in the e-reader market.
Predominantly dominated by Amazon and at a push Kobo, these companies may have a MUCH cheaper competitor hot on their heels. Perhaps the internet giant will have bigger fish to fry with the l
aunch on the Kindle Fire
at the end of this month?
The Txtr Beagle e-reader is hoping to ship for around £10. Don't expect much more than the basics – that means no touchscreen, backlight, 3G or Wi-Fi. For me that works perfectly, because with an e-reader I don't want any extras like audio functions or even touchscreen capabilities, I just want to read easily and for a long time.
The product will lead in size and weight, being the lightest (128g) and smallest e-reader around with a mere five inch eInk display as well as 4GB of storage.
No charging. The device runs on two AAA batteries which last "over a year", but that depends on how fast you read books, because on closer inspection, Txtr state that it will offer enough battery to read 12-15 books.
No wires. Pair the device via Bluetooth to your smartphone and then use the Txtr Android app (iOS on the way) to add books to the e-reader. Apparently books or documents available in the user's library can be transferred to the device. I'm intrigued to see if this is the same of books bought from Apple's App store, as they never like you taking the products you buy onto another company's platform to enjoy…?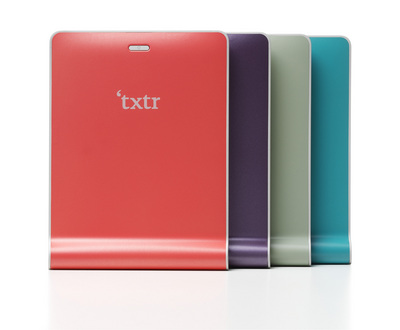 Every other commuter on the train has a "grey" Kindle, but at this price we may start to see "fifty shades of pastels" littering the carriages. And according to
rumours
t he cheap price could be down to subsidies from a wireless carrier.
No availability as yet, but I hope this is likely to be on the shelves in time for Christmas, which is scarily only 11 weeks away, did you know?
If nothing else, the advert for the device is worth a watch, even to cringe over the Hollyoaks class of acting abilities:
txtr beagle from txtr on Vimeo.