AirPop Active+ smart mask with 'Halo' sensor
If you had to take a random stab at naming the types of products we get to see in the Computer Weekly Inspect-a-Gadget test lab, you'd probably come up a list that includes most of the usual suspects.
We've often looked at smartphones, laptops, disks and routers… equally, we have very typically examined and tested Xbox accessories, screens, headphones and headsets… and then, slightly more occasionally, we have looked at wacky items like 'splittable speakerbuds' and keyboards with in-built mouse/touchpad interfaces.
So, as much as we've been prepared to play with almost anything, smart face masks are a new commodity as far as we're concerned.
But this (as we all know) is an era of Covid-19 and global pandemic contagion, so what better time than now to look at the AirPop Active+ Face Mask, which is billed as being the first smart air wearable.
Note: For the record, although the below notes come very much with sentiment for the way we have all needed to live during the Covid-19 pandemic, the company sells its products for people that want to get 'clean air' in any time of life — for those of us that live in the centre of large cities where air pollution is a real issue, this could be a product of interest.
An air wearable
AirPop sells the Active+ smart mask with 'Halo' sensor from its online store.
This is not just a mask like your grandmother might have knitted you, this unit has a 'pro feel' to it and it has been designed specifically with movement in mind. So that makes it a mask not just for walking and being out and about, this is a mask for people running and working out.
In terms of feel (and we've all worn a fair few facemasks over the last few months), this unit has lots of internal room; this makes it really comfortable and makes it easy to breathe in, but it does mean that it protrudes far enough away from the face for you to be able to see it in the lower part of your peripheral vision when wearing it. Don't worry, haven't grown a doggie nose, it is just mask.
The company says that the Active+ is actually designed for high-intensity workouts, cycling, running and other athletic activities.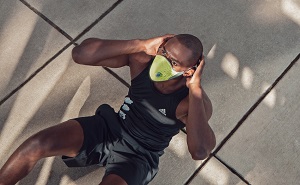 The connected Halo sensor (just in the wearer's bottom-left) actively monitors user respiratory health stats and local air quality, providing feedback regarding breathing and mask performance through the companion app.
The app is available for iOS with an Android version soon to arrive — the unit is available in black/green and Active+ will also launch in white/grey shortly.
Specialised soft knit structure
According to its makers, AirPop is made from a 'specialised soft knit structure' and designed with performance pores to channel airflow from outside in
"The app uses a combination of data collected from the Halo sensor about the wearer's breathing patterns to give a visual overview of their breathing behaviour, cycles and the pollutants that the mask has blocked during use. The app's Active Mode also tracks metrics including breaths per minute and breaths per pace," said the company, in a press statement.
In addition to giving the wearer continuous crucial health metrics, the app also will notify the wearer when it's time to replace AirPop's snap-in filters, which block >99% PM0.1, a measure laid down by bodies including the European Environment Agency to denote particulate matter with an average aerodynamic diameter of up to 0.1 µm, referred to as ultrafine particle fraction — so this includes dust, allergens, particulate matter and microbial particles.
Each AirPop filter come with a unique QR code that can be scanned and authenticated, by the AirPop app when it's installed, ensuring that the proper filters for the mask are being used.
AirPop Active+ smart mask with Halo Sensor is available here for £149.99. The mask comes with four replaceable filters, each lasts up to 40 hours of use. Additional filters can be purchased as a four-pack for £24.99
So it's a smart-looking smart-operating smart mask that you'll look pretty smart in and you can successfully work out in… at the time of writing in the UK with gyms just opening, there could of course be a real market for this kind of product. It's not cheap, at all… if anything it's reassuringly expensive and to be honest, assurance is one thing we all need coming out of Covid-19 isn't it?