Acer beTouch E130 review: Budget Android with full QWERTY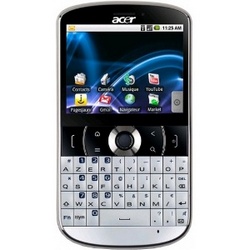 Acer haven't exactly lit-up the smartphone world and don't look to do so any time soon.
This phone wasn't meant to break any records, a cost effective Android business phone is how I see it and in that space, it has it's limitations.
What's disappointing about this phone is that it is still on Android 1.6. Most Android phones are on 2.1 at least if not 2.2.
Design
It looks like a Blackberry with a 2.6 inch resistive touch screen. It sounds great for business goers but in practice, it just looks like a Blackberry, it's no better than a normal budget phone with a QWERTY keyboard.
The keyboard is quite good. The keys are raised and easy to click. It's easy to get the keyboard wrong so to be fair Acer did a good job of this obviously taking note of Blackberry's best. Typing long emails is a joy.
There is a small trackball in the middle of the phone that is similar to the HTC Hero and the BlackBerry Pearl.
Trackballs are not common any more as they can be problematic. Personally I don't mind it and have never had a problem with them.
Other than that it has the standard Home, Back, Search and Menu buttons as well as Call answer and Call end buttons. The phone is made entirely of plastic and it's a very light phone.
Software
Acer have skinned Android but not massively. The skin has Acer's 'media picker' which is a carousel for video, pictures and music. As with most Android phones you get five screens to fill with widgets, folders, shortcuts, applications and contacts.
Acer has also moved the tab that you would normally slide up to get to the full applications menu and instead you slide it horizontally, pulling it out from the right edge of the screen.
Most Android apps are made to fit screens that are portrait and not horizontal so you always have difficulty fitting things on the screen properly. There is no accelerometer so you can't even make it portrait if you ever need it.
The screen is low resolution which doesn't help matters. Apps look blocky and pictures don't look very good.
This also makes web browsing challenging, and since the screen is resistive there is no multitouch, meaning you can't pinch to zoom although double tapping the screen zooms in and out.
Ins and outs
The processor is only 416Mhz which will be fine for light users but heavy app users will find it starts to slow down once a few are open.
It comes with GPS, WiFi and HSDPA (3.5G internet speed) as well as a 3.2 megapixel camera which is acceptable but not great, much like the rest of this phone.
Conclusion
I haven't exactly been complimentary about this phone and that's because Acer have cut back in almost every department to create a good, budget Android phone with a solid QWERTY keyboard.
If you want a low-end Android phone and like emailing and texting then this could be up your street, if you want the full smartphone / Android experience at a low price then I would look at the HTC Wildfire.