A travel 'gadget' round-up
I travel. There are of course a lot of technology conferences, symposia, study tours and press gatherings to attend around the planet and this particular writer ends up going to a good share of them.
Given the summer slowdown that is now upon us, it seems sensible to summarise a few of the choice items that always get packed into our 'rollaboard' wheelie bag for the events that happen every month.
From full-blown machines to handy clip-on devices to that most basic thing of all (a compactable foldable mouse pad) and some spare batteries, here is a travel gadget round up lost of some items that have their own Delta Airlines Diamond frequent flyer space by now.
Acer Chromebook
After lugging a widescreen PC to so many shows, it always bugged me that the tiny 'netbook' PC never took off or stayed with us. How useful would it be to have a nine-inch machine that didn't cost the level of an Apple MacBook Air and that would just work when you needed it to – I thought.
… and so it was, one day, as I was walking through a wholesale supermarket store in the USA (BJ's if you must know, kind of like Costco, but with fewer free food samples) and I saw an Acer Chromebook 311 on sale for a mere $130. Plus US federal tax it was closer to $140, but that still enabled it to come in at under £100, so I bought two.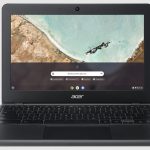 Although it (obviously) takes a while to get your head around the fact that there is no 'desktop' as such with Chromium OS, if you're used to using Google Docs and Gmail and Chrome, there are heaps you can do – and you can always plug a USB in and save your emails as .eml files for backup and use on a PC afterwards.
Although there's not quite the 8 to 10-hours battery life on this cheaper device, it has become a solid part of the family over the early part of this summer – and, looking forward, I would definitely spend money on a higher-end machine next time with a bit more CPU muscle power.
DST-Mini Duo docking station
Because the Acer Chromebook only has two USB Type-A ports, it made sense to try and make use of the USB-C port for more than just a phone connection. The DST-Mini Duo is a high-performance option for connecting laptops, tablets or smartphones to a range of interfaces including 2 HDMI displays.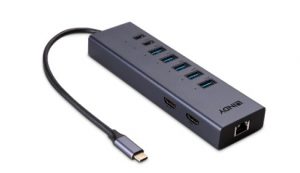 This Mini Docking Station uses a single USB 3.2 Type-C cable to connect up to two 4K displays simultaneously and it also improves connectivity to other devices through Gigabit Ethernet (who uses that anymore?) and USB 3.2 / 3.1 SuperSpeed 10Gbps and 5Gbps ports.
This Laptop Docking Station also enables the connection of an HDMI display to a laptop and supports video resolutions of 4K 120Hz. It features three USB 3.2 Gen 2 Type-C and Type-A ports providing 10Gbps high data transfer speeds as well as three 5Gbps USB Type-A ports. This Docking Station also supports Power Delivery 3.0 up to 100W for charging the connected laptop.
The fact that this device opens up a non-HDMI Chromebook for HDMI use is really useful, especially if you have movies stories on disk that you want to broadcast on a TV screen while on a business trip. The device works perfectly on USB Type-C and also extends use to smartphones (we only tried Android) if you happen to want to use your smartphone as a mini-PC (and we know some people do with Bluetooth keyboards and more), so the compatibility factor (with no external power needed) right out of the box was very pleasing.
Razor Cobra Pro
Not really a travel item at all (it's a lightweight gaming mouse) the Razor Cobra Pro has ended up being part of the road warrior kit that I haul about. The mouse is integrated with 10 customizable controls, five onboard memory profiles and 11 individually addressable Chroma RGB zones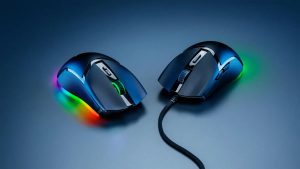 "Designed with seven buttons on top, two on the side and one on the bottom, the Cobra Pro redefines accessibility, offering endless possibilities for quick-to-reach commands," reads the promotional info… and that side button ability to 'back-page' when using the web (especially with a Chromebook) is a nice touch.
OneAdaptr OneWorld65 adapter
Having been through a lot of international adapters over the years, it was good to finally get my hands on a OneWorld65 Wireless adapter. This unit can charge up to eight devices simultaneously – it has a 10W wireless charger built in (which none of my phones can use, but it's nice to have) and it ships with 60W & 20W USB-C PD ports, 2 x USB-C smart charging ports and 2 x USB-A smart charging ports.
The AC universal power outlet is said to work in over 200+ countries (Wikipedia currently lists 195 countries in the world, so we're not quite sure how the OneAdaptr people get that figure, but what the heck. This is a really nice sturdy unit and one of the most impressive things was seeing it also plug into a shaver outlet and still transmit power.

Moving into slightly unusual territory, but it charges with a USB-cable so it feels like its part of the gadget family, the Bitvae Ultrasonic Electric Toothbrush is a nice to own product that also features in my travel bag every trip.
"The Bitvae Ultrasonic Electric Toothbrush is an electric toothbrush that uses ultrasonic technology to deliver 40,000 strokes per minute, removing up to 7X more stains than a manual toothbrush. It also has five modes to suit different conditions of teeth and gums, including Clean, White, Polish, Soft and Gum Care," says the packaging – and it does…. It's super lightweight and nice to use.
Scosche BoomCan MS speaker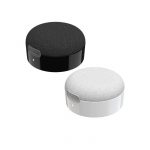 Small, but always nice to carry is the compact MagSafe Compatible Magnetic Wireless Speaker from Scosche. While we may never work out how to pronounce Scosche, we can say that its products are always interesting and well made (the powerful torch/flashlight unit from the company that doubles as a car jump start unit is quite something), so the BoomCan attaches to Apple MagSafe iPhone models 12 and later in a nifty way to form a little stand-up smartphone unit with boosted speaker. It also pairs with Android phones, but does not attach magnetically.
The unit works with Bluetooth 5.3 for a fast connection and you can pair two BoomCan MS speakers to deliver a wireless stereo sound with up to 5 hours of playtime per charge. This is not a party speaker for a whole group of people, this is a good speaker to extend the small speaker in your smartphone and it's really pocket-sized.
The Scosche BoomCan MS speaker is built with IP67 rated waterproof and dustproof design. As a reminder, IP67-rated enclosures are able to withstand waterhose and jet sprays and can sustain momentary water immersion in depths of 150mm to 1000mm up to 30 minutes maximum. IP67-rated enclosures are guaranteed to function in indoor, outdoor and demanding industrial and commercial settings.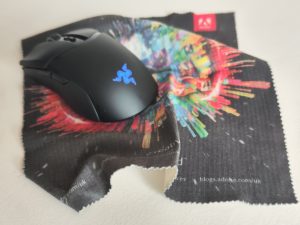 Cloth mousepad
So to finish with the least technical but the most useful travel gadget of all, a foldable cloth mousepad. The one I have was a branded freebie giveaway from Adobe and it must have circumnavigated the globe 20 times by now (sorry Greta T). The number of hotel working desks that are built as see-through glass panels (or feature a glass top) seems to increase every year – this fabulous little piece of cloth takes up zero room and works as a mouse pad wherever you need it.
Gadgets are great, but sometimes it's just the simple stuff that makes sense, right?