The role of social media in extremism and radicalisation
This is a guest from David Wright, director UK Safer Internet Centre at SWGfL, who explores the dangers to children's wellbeing posed by political extremists on social media and outlines the steps schools can take to protect students from indoctrination online.
According to estimates, approximately 700 UK citizens, including many teenagers, have travelled overseas to join conflicts. They include three teenage girls from Bethnal Green in East London who were thought to have travelled to Syria.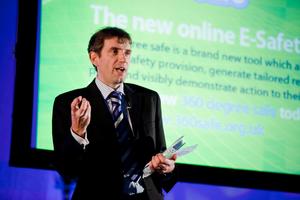 The BBC reported that the families of the three 15 year-olds have appealed for them to return and said that there were no signs they were planning to go to Syria.
Prevent, the government's counter-terrorism strategy, was written in 2003 with prevention as a key priority. It focuses effort and resources on 'priority areas'. In these areas, those working with children typically have a general understanding of the threats posed by radicalisation.
However, the increasing use of online tactics and social media by extremists has changed how these ideas spread. These technologies don't recognise 'priority areas'; they extend across the entire country.
The threats we are seeing take many forms. There are the high-profile incidents of young people travelling to countries such as Syria and Iraq to fight, but there are less obvious and wide-ranging risks. The Internet, and in particular social media, is being used as a channel, to not only promote and engage, but also, as suggested by Robert Hannigan (Director of GCHQ), as a command structure.
In response, towards the end of 2014, the UK Safer Internet Centre issued a briefing to all local safeguarding children boards to highlight this issue.
Clearly, everyone has a responsibility to report a concern about a child but the Counter-Terrorism and Security Act 2015 obliges schools and other authorities to prevent people from being drawn into terrorism. The guidance lists five key areas:
– Risk assessment: Schools must assess the risk of their children being drawn into terrorism, as well as their support for extremist ideas and terrorist ideology. They should have robust safeguarding policies to identify children at risk, and appropriate intervention and referral options. The policy should also cover the suitability of visiting speakers.
– Working in partnership: Schools in England are required to ensure that their safeguarding arrangements take into account policies and procedures of their local safeguarding children board.
– Staff training: Schools should ensure that their staff are equipped to identify children at risk of being drawn into terrorism, as well as challenge extremist ideas. They should know how to refer children and young people for further help. The Home Office's free training product about radicalisation awareness, Workshop to Raise Awareness of Prevent (WRAP), may be a suitable option.
– IT policies: Schools are expected to ensure that children are safe from online terrorist and extremist material in school, typically using filtering systems.
– Monitoring and enforcement: Ofsted inspectors will assess a school's approach to keeping children safe from the dangers of radicalisation and extremism and what is done when the school suspects that pupils are vulnerable to these threats. If a school is considered to be failing in this regard or if their staff or children's safety is threatened, maintained schools will be subject to intervention and academies or free schools may be subject to termination of funding. For independent schools in England or Wales, they must remedy any failing or be subject to regulatory action. Early years settings are also covered by this monitoring provision.
The power of the Internet and social media has highlighted a need for an open and ongoing dialogue in our communities – among children, young people, parents, carers, schools and wider – to ensure that young people have the skills to be critical thinkers online and are resilient to online extremism, whether from groups like Islamic State or from others.
To support schools with e-safety, South West Grid for Learning (SWGfL) has created 360 degree safe, a free online self-review tool and Boost, a comprehensive online safety toolkit.