This is a guest blog by Joe Chadwick, 20 – Advanced Apprentice at Fujitsu UK & Ireland – Business Administration
I finished A-levels a year and a half ago and started a business operations apprenticeship with Fujitsu last July. I haven't looked back since. I would, hand on heart, recommend an apprenticeship to anyone who is thinking of boosting their career, while still being able to learn at the same time. I am really happy in my current role and I'm looking forward to developing my career at Fujitsu further.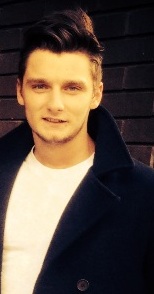 The funny thing is, I almost ended up going to university. My college encouraged everyone to follow the traditional university route, regardless of their ambitions. It nearly forced UCAS upon us and as a result every single one of my classmates ended up doing a degree. I was the only one who stood against the norm and went on to do an apprenticeship.
I knew from the start that university wasn't for me – I wanted to progress my career straight away and get the advantage of learning on the job and earning at the same time. At university you get to work with a very limited group of people – of similar backgrounds, age and experiences.
All the work you do is very individual, and while deadlines are still there and push you to work hard, it is not the same as when you are an apprentice. When you do an apprenticeship, you learn skills that are transferable and get to cooperate with a variety of people with different roles, backgrounds, ages and experience, which is extremely valuable to employers today.
Recently, I have been offered to work in a brand new cloud support team within Fujitsu – and I'm really excited about this new opportunity. I know very well it can be difficult to follow through on your ambitions and go against what everyone else expects, but if you are thinking about doing an apprenticeship, as opposed to going to university, you shouldn't be afraid of doing it.
Being yourself will pay off if you take the opportunities presented to you and work hard. I know I'm on the right route to a successful career and that I made the right choice for me. Don't be afraid to make yours.