Does Tech City house the next Mark Zuckerberg?
This is a guest blog from Stephen Ball, vice president and general manager, UK and Ireland at Hitachi Data Systems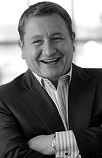 Silicon Valley has delivered an endless list of technology success stories to the world, boasting names such as Apple, eBay, Google, Western Digital and Yahoo, so it was perhaps not surprising that two years ago our Prime Minister David Cameron launched a vision to emulate the Valley's success here in the UK.
Cameron's vision called for an area of London, dubbed by the media as "Tech City", which would form a hub for technology entrepreneurship. Tech City, which broadly covers the area between London's Old Street and the Olympic Park in Stratford, is certainly an inspiring setting, partly because of the government's efforts in encouraging exciting new tech start-ups such as the likes of TweetDeck or Seatwave, as well as giants such as Google and Vodafone to set-up shop in the area.
By creating an ecosystem of funding, government incentives and a network of partnerships has helped make Tech City an attractive proposition to existing technology companies at home and from abroad.
However, for Tech City to be successful in the long-run, we must sustainably fuel it by developing the right skills and inspiring young talent to drive it forward beyond the financial incentives. This can be achieved through education, industry involvement and mentoring.
The ICT curriculum
At school my children learn ICT; however the curriculum from which they are being taught is entirely Windows-based and provides no exposure to elements such as coding, web design or social media. Yet isn't this the type of technology companies that Tech City has set out to create want and need?
This problem was recently highlighted in a Confederation of British Industry report where over 59% employers envisaged that they will face problems finding staff with Science, Technology, Engineering and Maths (STEM) skills in the next three years. The same concern was shared by the House of Lords Science and Technology Committee, who earlier this year called for immediate action to ensure that enough young people are studying STEM subjects.
The recent development of the Raspberry Pi board is a symbolic reminder that all today's youth need is the right encouragement, tools and guidance to evolve into the technology entrepreneurs of tomorrow. Therefore there is also a case for industry to get involved beyond the classroom.
The UK technology scene is an inspiring hub of great talent within itself and there are great synergies that can be achieved by exposing tomorrow's talent to it. For instance, the immediate gap in STEM skills can be addressed through apprenticeships where individuals are equipped with the right skills to pursue a career in IT. In the long term, by working with academic establishments, industry players can share their expertise and even help provide the means to incubate the Google's or Facebook's of tomorrow.
Yet having been in the industry for over 25 years, I would have expected Tech City to cross my path outside of what we read in the media. The fact that it hasn't happened yet is perhaps a sign that more needs to be done from the government's perspective to work with industry and help nurture the hidden talent this country has.
Technology superstars of the future
We are fundamentally going to have a ten year skills deficit here when it comes to nurturing the technology superstars of the future unless we start building the essential coding and technical skills into the fabric of the curriculum today. Without this input, I fear that in as little as a decade's time, Tech City will merely become a stagnant, "parliamentary" technology hub.
If Tech City is to produce the next Tim Berners-Lee or Mark Zuckerberg of this world, who will go on to inspire and energise our Tech City, we must go beyond the incentives and put education back on the agenda within our schools.