Fintech makes world go around, but who disrupted my blog?
I have a confession to make. Before this fintech blog I wrote a regular blog for Computer Weekly focused on the IT outsourcing, because I didn't find the technology that interesting.
Well that is what I told people when in fact the reason was felt safer writing about the business of outsourcing than the actual technology.
But times have changed and technology has become consumerised to such an extend that the science doesn't confuse someone like me who enjoyed learning about things like the repeal of the Corn Laws at school more than physics and maths.
So like many business sectors these days, which are being forced to change their business models because their industries are being disrupted by digital technology, I feel I need to change the blog thread.
In the past I would write blog after blog about businesses outsourcing their IT with all the challenges associated with that. Whether this be integrating staff from suppliers, finding new positions for displaced in-house staff, or in fact making the tough decision to let staff go. If you want to take a look back at this blog you can see it here. As you can see it has been a while.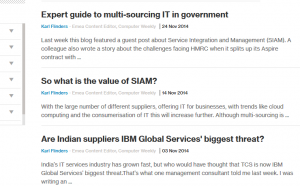 There was a lot to write about IT outsourcing because it was something that still created uncertainty, fears and controversy. But today it is hard to find companies that don't outsource IT and moving from in-house services is not the giant leap it once was. Even those that think they don't outsource probably do.
This is because technology has moved to the point that there is a digital service for almost anything, whether it be an HR system to manage staff or an ordering system for customers, and they are easy to access and use. Cloud computing, artificial intelligence, mobile are technologies driving business change and as a result changing outsourcing with automation and pay as you go models.
And fintech is core to much of the disruption going on. Every service seems to link to a bank account, with pay as you use models all the rage.
A bank which is based entirely on a mobile app, a car manufacturer that rents out cars rather than selling them, and somebody renting out their spare room all have something in common. They all rely on fintech to work.
You can click on a map today while planning a holiday and within minutes your bank account can be linked to a car hire company in downtown Nairobi or a resident of the Amalfi coast with a spare room.
Today businesses and consumers often even prefer to subscribe to an online service rather than buying a physical product as they would have in the past. Users don't see all the work being done in the background.
In fact the world does seem to stop spinning when a mobile banking app fails or you can't get a payment approved for an Uber in the early hours. Or if you can't pay for the film streaming you need to satisfy the kids.
If you have any doubt about how the fintech revolution is changing the world, Blockchain, once the domain of the super techie, now features in the morning conversations at the school gates as it certainly does in boardrooms around the world.
In this blog I hope to pass on some of the insights I get around fintech and the general disruption being caused by the latest digital technologies.