Vax doesn't have to be vexing
The Labour Party has called for emergency laws to prevent social media companies from playing host to anti-vaccine content.
You'd've thought the ruling elite would have already got the memo to suppress the exposure of a plot to get us all chipped up, but in this case it seems they needed a nudge from Illuminati kingpin and shadow health secretary Jonathan Ashworth. That apparently makes perfect sense when you remember any hole in a conspiracy theory can be explained away as an elaborate decoy. See Bill Gates dedicating years of work to global sanitation so he could eventually get away with throwing his very own pandemic.
If this wasn't all drivel, trust us, we'd know. These theories rely on the idea of the mainstream media being in on it, and it doesn't get more mainstream than Downtime, baby! We're read by all the luvvies, not least Keir Starmer's favourite musician, David Baddiel.
So if you're an anti-vaxxer, please give it up now. Can't you see the people who run the show don't need to chip a civilisation that already repeatedly votes in their best interests? We know it's not been an easy year, but the sooner you take your vaccine, the sooner you can hold someone again without being caged for manslaughter.
And relax, if Bill Gates ever tries any funny business, we'll make sure you're the first to know… 😉
Content Continues Below

Download this free guide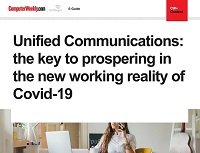 Unified Communications: the key to prospering in the new working reality of Covid-19
The coronavirus is changing everything about how people work, and will do so permanently. It added that even though the working world was experiencing unprecedented uncertainty, there were two things that should be borne in mind: the virus will pass, and at the other side of the pandemic, the world of work will look very different.