This year's CES organisers have succeeded in preserving every male tech nerd stereotype by crumbling over a small reminder that real vaginas exist.

Download this free guide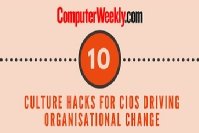 Infographic: 10 culture hacks for CIOs driving organisational change
Download this infographic and discover ten extremely simple culture hacks CIOs can use to drive organisational change and improve business outcomes. These tips were provided by Kristin Moyer, vice president and analyst at Gartner at the Gartner Symposium 2018.
The Osé personal massager's upcoming innovation award at the event has been reversed after it was deemed indecent, which would look a lot less like blatant sexism if CES hadn't showcased a robotic sex doll only the year before.
Company founder Lora Haddock, who sidestepped a marketing mistake when she didn't name the product after herself, said: "You cannot pretend to be unbiased if you allow a sex robot for men but not a vagina-focused robotic massager for blended orgasm." Downtime isn't sure what a blended orgasm is, but it doesn't sound like something you'd ever try to stand in the way of.
It's clear the Osé, ordinarily a resounding stranger to anything of the sort, has found itself subject to a major anticlimax here, and its creators might now have to see a drone snatch the award from under its big, blue, Gonzo nose. "What's a drone snatch?" you quip. You're part of the problem.
If a drone wins this honour, in spite of the havoc they've wreaked on our airways – at the expense of a dildo that's done nothing wrong, no less – we're taking this scandal to HBO ourselves.