Live from the Lord Moon of the Mall (Pt. II)
"You've got to wear a face nappy if you want to come in here," chunters a half-cut Tim Martin as Matt Hancock enters the Lord Moon of the Mall. "Only joking," he slurs. "Who am I to tell the health secretary what to do with his face?"
The frontbenchers are in the corner, pouring lager over a row of tables and rousing a shirtless Mark Francois to slide across them. "What shall it be, Hancock, a big glass of Ribena?" asks Jacob Rees-Mogg. "One can always find inspiration in the Wetherspoon app if all else fails – no offence intended." It's enough to give Matt an attack of conscience. He runs outside to throw up.
"Watch out, you stupid boy!" cries a kerbside Oliver Dowden. Matt wipes his mouth and turns around: "Who are you?"
"I'm the digital secretary," he says, prompting Matt to break the fourth wall: "I was wondering what this had to do with technology."
The health secretary joins him on the kerb. "What are you doing out here, then? You know, I had your job once. A strange one, isn't it… Having to suddenly know about X Factor and football all at once."
"In a matter of days," sighs Oliver, "I'm supposed to somehow justify Boris's billion-pound U-turn on Huawei."
"You should say Daniel Rashford made him do it," grins Matt. "Why are you headbutting the pavement?"
Content Continues Below

Download this free guide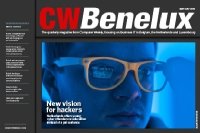 CW Benelux: Netherlands offers young hackers re-education
Read how young hackers in the Netherlands are being rehabilitated through punishments that educate rather than incarcerate.