Live from the Lord Moon of the Mall (Pt. II)
"You've got to wear a face nappy if you want to come in here," chunters a half-cut Tim Martin as Matt Hancock enters the Lord Moon of the Mall. "Only joking," he slurs. "Who am I to tell the health secretary what to do with his face?"
The frontbenchers are in the corner, pouring lager over a row of tables and rousing a shirtless Mark Francois to slide across them. "What shall it be, Hancock, a big glass of Ribena?" asks Jacob Rees-Mogg. "One can always find inspiration in the Wetherspoon app if all else fails – no offence intended." It's enough to give Matt an attack of conscience. He runs outside to throw up.
"Watch out, you stupid boy!" cries a kerbside Oliver Dowden. Matt wipes his mouth and turns around: "Who are you?"
"I'm the digital secretary," he says, prompting Matt to break the fourth wall: "I was wondering what this had to do with technology."
The health secretary joins him on the kerb. "What are you doing out here, then? You know, I had your job once. A strange one, isn't it… Having to suddenly know about X Factor and football all at once."
"In a matter of days," sighs Oliver, "I'm supposed to somehow justify Boris's billion-pound U-turn on Huawei."
"You should say Daniel Rashford made him do it," grins Matt. "Why are you headbutting the pavement?"
Content Continues Below

Download this free guide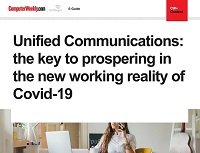 Unified Communications: the key to prospering in the new working reality of Covid-19
The coronavirus is changing everything about how people work, and will do so permanently. It added that even though the working world was experiencing unprecedented uncertainty, there were two things that should be borne in mind: the virus will pass, and at the other side of the pandemic, the world of work will look very different.