The Advertising Standards Authority has scorned Spotify for letting an It Chapter Two advert crop up in a classical lullaby playlist.
Restful tots kicking back to Erik Satie would have been subjected to traumatic intermissions of the horror film's menacing clown antagonist addressing them: "For 27 years, I dreamt of you. I craved you," to the soundtrack of frantic, high-pitched percussion.
This really demystifies the supposedly eerie targeted advertising myths we hear about these big tech companies. As Adam Curtis once put it: "The problem with their advertising is that it is – like all geek stuff – literal. It has no imagination to it whatsoever."
If targeted ads are scary, it's because they're scarily shit. Every time you check Facebook and it suggests you treat yourself to a jumper you got four months ago, it's like being in your very own It movie: only this time, Pennywise the Clown has gone all digital, and he's making you face your demons via misjudged online marketing.
It will culminate on YouTube, when you wholesomely click on the music video for Harry Styles's Adore You, yet find yourself confronted by a Plus500 ad so evil that when you watch it you lose your soul.
"Coronavirus has a dramatic impact on global finance," it will say. "Markets are dropping, and trading opportunities arise. It is time to trade." And that's an actual thing that exists.
Content Continues Below

Download this free guide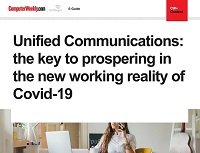 Unified Communications: the key to prospering in the new working reality of Covid-19
The coronavirus is changing everything about how people work, and will do so permanently. It added that even though the working world was experiencing unprecedented uncertainty, there were two things that should be borne in mind: the virus will pass, and at the other side of the pandemic, the world of work will look very different.