Google design a pair of sneakers, or trainers or shoes or, I'm not sure what to call them really.
Seems Google just can't help itself, acquiring businesses and expanding left, right and centre.
From Android to the Chromebook and it's first ever store, Google gives me the impression that it is looking to put it's stamp on anything and everything.
Here we have a pair of Nike Dunk Lows that are more likely to be described as 'designed in a school', rather than old school.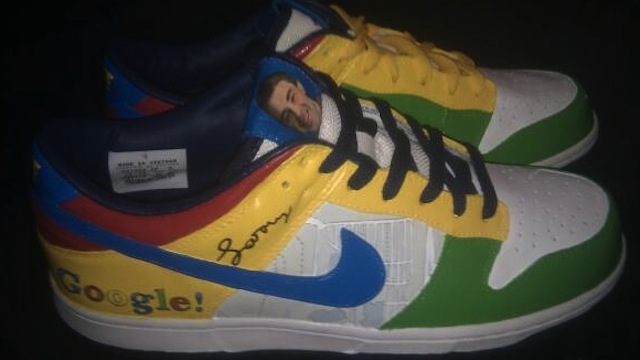 The colours are just about bearable but then you look closer and discover that Larry Page's face is stitched onto the tongue. That mean's every time you bend down to tie up your laces you'd have an upside down Larry beaming back up at you.
What's even worse is that, now I have
Evan Steinberg, Google Community Manager and the man who designed this footwear, to thank for bringing back all the horrible memories I suppressed about clothing I was forced to wear as a child in the early 1990s.