Drawing of HP Touchpad fetches bids of $80,000 on Ebay
An A4 drawing of HP's Touchpad device in blue biro is currently set to sell for 89,900% more than the device's discounted price of £89.

Hundreds of thousands of discounted and discontinued HP Touchpad devices have been snapped up in the past few days.
However, 72 people have bidded on an Ebay auction for a simple sketch of the Touchpad. The current bid stands at $80,100 – with six days left until the end of the auction.
If only HP had market-researched the demand for pen and paper before it launched its product…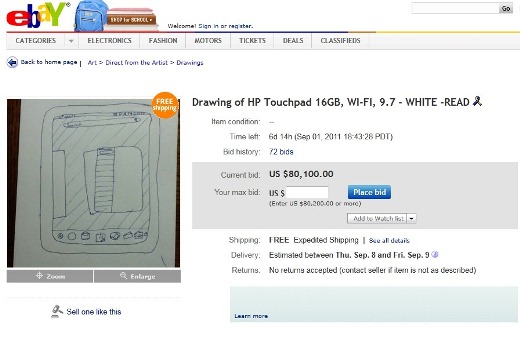 The artist of one-off art piece – a cash-strapped student – said the inspiration for the drawing came from "idiots bidding $300 on $99 tablets and $850 on a $99 tablet running Android – so I figured maybe someone would be dumb enough to bid on my drawing."
He promised to draw another version of the Android-based device if it sells for over $800.
The spec:
"This was drawn on a regular sized sheet of white paper. The drawing is in BLUE pen–my (and likely your) favourite colour. This weighs less than an actual Touchpad, is flexible, and you can sleep well at night knowing that you're different than the thousands of others who got a "real" touchpad. It can also be viewed as a drawing of a 16 or 32GB one."
Shipping is free. Returns not accepted.