BrackWust Bot grills guest's sausage
The BrackWust Bot looks like it could become hotter than a hot potato this summer. The Bot was recently used at the 53rd Stallwächter-Party of the Baden-Württemberg State Representation in Berlin to continuously grill German bratwursts on a regular gas grill all by itself.
According to its inventor, FZI, one of the challenges is how the Bot can see when the sausage is done.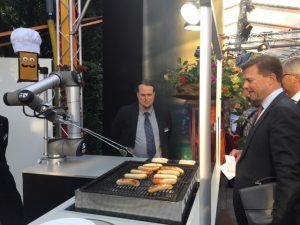 "A segmentation algorithm with background subtraction was used to localise the sausage on the grill. A special challenge was the changing color of the sausages. The robot used a mixture of previously taught trajectories and online planned trajectories," FZI said.
Right, so, that makes it OK for the Downtime BBQ then? Just no grilling the guests.