At last! Asda's mad selfie stick barbecue lets you Instagram your salmonella outbreak!
News unfortunately reaches us, as it tends to do, that someone has come up with the perfect hi-tech barbecue.
For reasons passing all understanding, supermarket chain Asda polled their customers on what they would like to see on their dream barbecue.
It then commissioned a designer, Oliver Boyd, to turn the results into reality.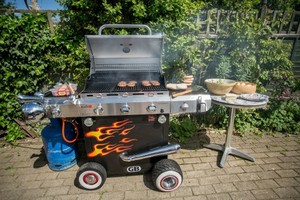 The resulting chrome-plated, er, well, let's be charitable and call it an installation artwork, includes a bottle opener and holder, flashing neon lights, spotlights and headlights, an iPad dock, and speakers.
Sorry. Which maniac Asda customers said they wanted headlights and an exhaust pipe on a barbecue? Were they planning to take it for a spin?
And of course, no publicity stunt would be complete without the obligatory selfie stick. Yes, it has one of those as well. We do hope Oliver was able to charge it back on expenses.
It took Oliver seven days to customise the barbecue, but the Saffron Walden native has apparently pronounced himself satisfied with the result and even compared it to something out of 'Fast and Furious', a popular movie franchise in which Vin Diesel crashes lots of cars.
Asda's outdoor buying manager Dave Bartle, reflected on his own PR car crash.
"Our aim was to create something that incorporates all the fun elements our customers need to kick that first outdoor gathering of the summer off with a bang," said Dave.
Well done, Dave. Top bants.