Anonymous hacktivists gets possessive over logo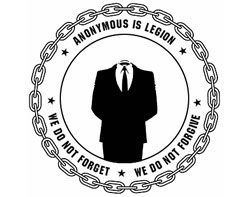 Hacktivist group Anonymous is perhaps best known for punitive actions undertaken on behalf of others such Wikileaks, but now it is taking up "arms" on its own behalf.
A French company snuck one over Anonymous by trademarking the group's logo and slogan, but the move "will not go unpunished", the hacktivists have said.
Paris-based Early Flicker registered the logo of a headless suited figure for use in France as well as the slogan: "We are Anonymous, We do not forgive, We do not forget. Expect us."
In a YouTube video, Anonymous said it "will take down any business they have going on the internet", according to the BBC.
Downtime has to admire Early Flicker's courage, but for a company that does business online, Anonymous was perhaps not the wisest target, especially considering the group's track record of disrupting websites with co-ordinated distributed denial-of-service (DDoS)attacks.
Attention all suppliers of DDoS mitigation systems: Early Flicker just may be looking to buy.