RSA Conference Europe 2012
This Tuesday marks the start of RSA Europe 2012. It's a leading brand and a major event. US vendors will be there in force, as will the cream of the European security community. The formula has been long established: keynotes by paying sponsors plus the odd guest or two; large scale technical programme with multiple strands; exhibition of products from leading vendors.

Download this free guide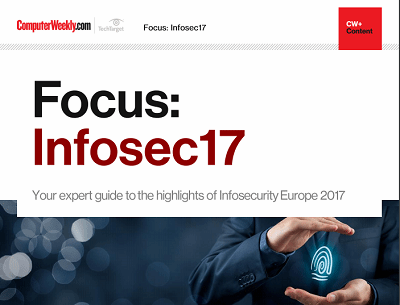 From forensic cyber to encryption: InfoSec17
Security technologist Bruce Schneier's insights and warnings around the regulation of IoT security and forensic cyber psychologist Mary Aiken's comments around the tensions between encryption and state security were the top highlights of the keynote presentations at Infosecurity Europe 2017 in London.
By submitting your personal information, you agree that TechTarget and its partners may contact you regarding relevant content, products and special offers.
You also agree that your personal information may be transferred and processed in the United States, and that you have read and agree to the Terms of Use and the Privacy Policy.
This year we have Jimmy Swales closing the conference, fresh from his celebrity-studded wedding. I believe there is also a German rock musician on one of the panels, though I'm not well up myself on that genre. All in all it's a compelling event that cannot be ignored. Anyone who is anyone – and can afford the fee – will be there. Media coverage will be guaranteed, in spite of the rather lacklustre capabilities of the PR community.
So what does it all achieve? Firstly, like or not, it reflects, communicates and reinforces the mood of the time. If Cloud, Big Data or BYOD are this year's flavours then everyone will be compelled to believe it. Secondly it brings together a high concentration of security authorities – for better or worse, as perspectives are quite different on each side of the Atlantic. But most importantly it is the best opportunity for individuals from the UK and European community to influence the big vendor beasts from the USA.
So let's get in there. I will certainly be promoting my latest views on products, techniques and directions. I would encourage you all to follow suit. Because in my view there is far too little imagination, diversity and criticism in the field of information security management. And this is a good shop window to promote innovation.