It's hot outside, so kick back and take it easy
My word, it's blooming boiling outside today in London (31 July).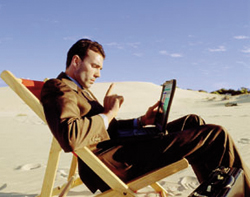 I've just popped into town for a meeting and felt overwhelming oppressed by the atmosphere…. I know it's a typically British thing to complain about the weather, but sticky and sweaty are just not nice.
Anyway talking of the weather reminded me of a great piece of advice written by my fellow Computer Weekly blogger Michael Pincher that explains how you can use the summer slowdown to actually do some useful stuff in the office that may well help you once the pace picks up again in the autumn…. ok its nearly Pimms o'clock so time to put the feet up and chill out with a long cold drink!
Who was complaining about the weather being too hot!!